Girl With a Prosthetic Limb Receives an American Girl Doll That Looks Just Like Her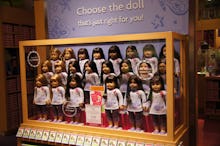 Emma Bennett, age 10, has worn a prosthetic leg for most of her life due to a birth defect — and now she finally has an American Girl Doll that looks just like her. 
Bennett's prosthetic leg has never stopped her from playing soccer, cheerleading or swimming, according to KHOU. She also likes collecting American Girl Dolls, but has always wished to have a doll that she could better relate to, according to her parents. 
That wish came true, thanks to a modified American Girl Doll that featured its own pink prosthetic leg.  
To create the Emma Bennett-like doll, her parents Courtney and Justin Bennett sent the original idol to A Step Ahead Prosthetics, a company that alters dolls. Bennett's doll took about a month to customize. 
Her parents then recorded Bennett's reaction to opening the surprise gift in a now-viral Facebook video.  
Upon opening the box and reading the card, Emma Bennett bursts out in tears. "It's got a leg like me," Bennett says, hugging the doll tightly. "Thank you for making a doll like me."
Watch the video of Emma Bennett's doll-opening below:
Read more: Watch the Heartwarming Moment a Teen Girl Reunited With the Soldier Who Saved Her Life