Bernie Sanders Stopped by Drag Brunch at Hamburger Mary's in West Hollywood, Because Yas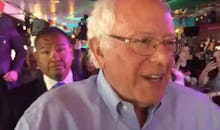 Vermont Sen. Bernie Sanders, Democratic socialist candidate for president popular amongst hip, young people, did a hip, young people thing on Sunday and went to brunch. But not just any brunch: Sanders went to drag brunch at Hamburger Mary's in West Hollywood. 
Sanders' appearance at the restaurant, a "staple in the LGBT community," per its website, naturally caused his fans — who, according to BuzzFeed, had no idea he was coming — to freak the fuck out. 
"The fact that Bernie Sanders went to Hamburger Mary's for drag brunch just makes my heart sing," @juliaboardlady tweeted.
"Im crying Im having a gay brunch in WeHo and Bernie Sanders walked in," @alcohorace wrote.
Sanders' stop at the hamburger franchise was one in a fun-packed day of campaigning ahead of Tuesday's California primary. He and his wife, Jane, hit LA's downtown farmer's market first, then made their way to Mary's where Sanders gave a short speech and shook a bunch of hands, then they headed over to the Santa Monica Pier so their grandkids could ride the rollercoasters. 
Hillary Clinton, Sanders' Democratic rival in the presidential race, did not make any brunch stops Sunday, but did win the day's Puerto Rico primary, moving her closer to the nomination. Sanders, meanwhile, is counting on California. The crowd at Hamburger Mary's, at least, is definitely feeling the Bern.
Read more: Bernie Sanders Filmed This Video to Help Campaign Staffer With His Marriage Proposal