Chrissy Teigen Just Won Her Husband John Legend an Award — All Thanks to a Single Tweet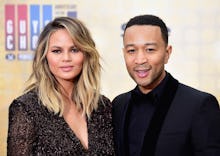 With celebrity coupledom at a critical faltering point, what with the recent breakups of Tayvin (Taylor Swift and Calvin Harris), Zigi (Gigi Hadid and Zayn Malik) and Demi Lovato and Wilmer Valderrama (who weren't granted a supercouple portmanteau), it's up to pre-eminent #RelationshipGoals pair Chrissy Teigen and John Legend to remind us love still exists. And they did just that over the weekend, in the cutest way possible, of course.
Let's rewind.
It all began Sunday morning when Teigen seemed to be on a mission to get Legend some recognition for a tuxedo that he wore at Saturday night's Spike Guys' Choice Awards.
Here is the tux in question:
Dapper king. The velvet = nice touch.
Not missing a beat, GQ's Twitter account replied, crafting an award for Legend only: GQ's first annual award for best tux worn by John Legend.
Playing along with the joke, Legend followed up with a humble acceptance speech:
While GQ doled out deserving praise of Legend's tux, it's actually the tux worn by Teigen later on in the night — complete with a bow tie despite wearing no shirt; just a bra — that we find deserving of equal honor.
Capping off their weekend-long run as best suited-up couple, the two delivered a one-two punch Piers Morgan after he issued a tone-deaf response to Muhammad Ali's death.
As the unwritten adage goes, the self-aware couple who trolls together, stays together.