Adele Sang a Spice Girls Song at Her Concert — Giving Us All the 90s Feels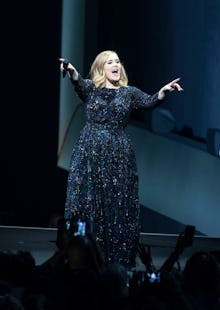 Adele is 28 years old, young enough to have lived through the Spice Girls phenomenon. The British singer crowdsourced "Spice Up Your Life," sort of by accident and much to the delight of her audience.
Here's how it went down: Adele, during one of her chatty interludes, jokingly shouted "Spice Girls! Spice Girls!" into her mic while doing a jazzy little dance. The crowd, predictably went wild. She playfully hushed them, saying, "Oh, stop it, I'm not a Spice Girl," before breaking into song.
"Power to the world/ Spice up your life/ Every boy and every girl/ Spice up your life/ People of the world/ Ahhhhhhh," she sang, ending with, "Oh you lot are great!"
So far on her world tour, Adele has charmed her audience with wonderfully frank admonishment of breastfeeding-shamers and encouraged smartphone-obsessed fans to live in the moment. She's flubbed some lyrics to her own songs, proving that she is in fact human. Human and susceptible as anyone to the allure of girl power.
Read more: Adele Made an Autistic Girl's Dreams Come True During a Manchester Concert