People Are Mad Over Miss Hawaii's Miss USA Final Question — But She Handled It Perfectly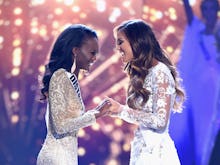 If the election were held tomorrow, would you vote Hillary Clinton or Donald Trump for president, and why would you choose one over the other?
The drama of this year's election cycle not so subtly creeped into the Miss USA beauty pageant.  
The target? Miss Hawaii Chelsea Hardin. The judges put her on the spot by asking who she would be voting for come November.  
Her response?
"It doesn't matter what gender, what we need in the United States is someone who represents those of us who don't feel like we have a voice, those of us who want our voices heard. We need a president to push for what is right, and push for what America really needs."
Needless to say, the audience was proud. 
Don't get us wrong: It is an election year, and contestants should be prepared to answer questions of a political nature. But, to put a woman on the spot in front of millions of people with such a personal and divisive question appears exploitative — as if the organization was looking for another viral moment.
Spectators tweeted to call out the inappropriate question and praise Hardin for how she answered it. 
Hardin ended up placing first runner-up to Miss District of Columbia USA, Deshauna Barber.
The judge who asked the question, Laura Brown, took to Twitter shortly after to defend herself against a barrage of angry tweets:
Watch Hardin's full answer below:
Read more: Miss DC USA Just Made a Powerful Statement for Women in the Military at Miss USA 2016