This 9-Year-Old Girl Passes Out Care Packages to Homeless Women in Los Angeles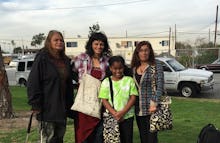 After noticing homeless people during her walks to and from school in Irvine, California, 9-year-old Khloe Thompson decided to start her own charity — dubbed Khloe Kares.
For her altruistic work, Thompson passes out hand-sewn cloth bags filled with life's little necessities — such as feminine hygiene products, soap, socks and toothpaste — to homeless women. 
Khloe Kares has become a generational organization, since Thompson works with her mother and grandmother to make and deliver the care packages. 
Unlike plastic bags, Thompson's "sturdy" Kare Bags are meant to last "forever," she told Upworthy. 
"You make me feel like a human being," one woman told Thompson after receiving a Kare Bag, according to Thompson's mother. 
In Los Angeles, homelessness is reaching epidemic proportions, accounting for almost two-thirds of the nation's homeless population. In January, 2016, the homeless population in LA was found to be 11% higher than one year before. 
Thompson's work doesn't stop at Kare Bags. She recently hosted a GoFundMe campaign to fund a toy drive that would supply "dolls and trucks" to children in group homes, as well as the charity filing fees that would turn Khloe Kares into a 501(c)3 charity organization. Thompson surpassed her goal of $10,000 by almost $3,000. 
"I want to inspire other kids to be great and to make your mark on this earth," Thompson said on her website. 
Read more: Girl With a Prosthetic Limb Receives an American Girl Doll That Looks Just Like Her