This Foul-Mouthed Parrot Could Be a Key Witness in a Homicide Investigation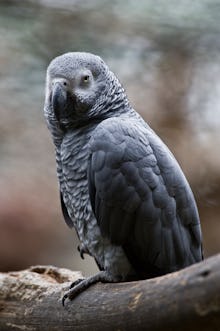 When a parrot appears on the witness stand, do they bring a special perch to the box or does it sit on the leather-gloved arm of a falconer type while it tells its tale? A Michigan court could soon find out: Bud, an African gray parrot, allegedly witnessed the murder of his owner, Martin Duram, of Ensley Township. Now, as the Washington Post reported, Bud may be allowed to used as evidence. Maybe, but probably not. 
The bird is reportedly squawking "Don't fucking shoot!" in a voice that sounds eerily like his late owner's, suggesting that it was perhaps Duram's wife — Glenna, whose gunshot-wounded body was found near her husband's — who pulled the trigger in May 2015. "I'm hearing two people in an intense argument," said Christina Keller, Duram's ex-wife and Bud's current guardian, according to the Post. "Two people that I know, voices that I recognize." 
Glenna was initially thought to be a victim, but according to the Post, she's since been shifted to the suspect list, despite her insistence that she remember nothing about the shooting and didn't kill her husband. But everyone who knew/knows both the victim/his parrot well believes Bud speaks the truth.
Duram's parents seem to agree that there is more to the situation than originally though: The parrot is replaying an argument between husband and wife that's seared on his bird brain. As Doreen Plotkowski, owner of Casa la Parrot in Grand Rapids, Michigan, confirmed to local NBC News station WOOD-TV, that's a distinct possibility.
While the police have reportedly considered allowing Bud to testify, Newaygo County Prosecutor Robert Springstead hasn't reviewed footage of the parrot, preferring to rest instead on "proof beyond a reasonable doubt," such as the three suicide notes Glenna penned before the shooting, in which the weapon was, according to WABC, a family gun. 
While "it's pretty near impossible" for a parrot to serve as a witness in court, people keep suggesting it: As the New York Times reported, an African gray's testimony was blocked by a judge in a 1993 murder case. So if Bud continues to run his beak, he may yet get the chance to do his civic duty.
Read more: Italian Man Turns Stereotypically French After Brain Injury, With Chronic "Joie de Vivre"