ISIS Killing Dozens of Own Members Accused of Spying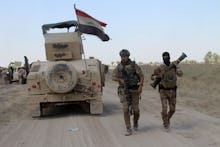 The Islamic State group, the terror organization that has taken over vast swaths of Iraq and Syria and has been the target of extensive U.S.-led international military operations to destroy it, has killed dozens of its own men in a purge of suspected infiltrators, the Associated Press reported Sunday.
According to the AP report, successful drone assassinations of senior ISIS commanders have led to ongoing purges of suspected informants. ISIS has killed dozens — "reportedly dropping some into a vat of acid" — and arrested many others. In a number of cases, ISIS personnel realized they were under suspicion and fled the group's territory.
Read more: ISIS Has Declared a State of Emergency Amid Suspicions of an Imminent Attack
According to Syrian Observatory for Human Rights rep Rami Abdurrahman, ISIS had caught wind of deals between members of the group and coalition forces ever since the terror group cut salaries dramatically in January. "They have executed dozens of fighters on charges of giving information to the coalition or putting (GPS) chips in order for the aircraft to strike at a specific area," Abdurrahman added.
The purges have been especially violent in the ISIS-controlled city of Mosul, where airstrikes have put an end to numerous senior commanders. Several videos have emerged online of the grotesque execution methods used by the group.
Earlier this month, a force of Iraqi security personnel and militia members successfully stormed parts of Fallujah, while Syrian military units supported by Russian air forces closed in on the group's capital in the Syrian city of Raqqa. According to the United Nations, the Syrian Civil War has displaced more than half the country's population, causing at least 310,000 deaths and forcing some 10.6 million people from their homes. In April, Reuters reported the income and controlled population of the group had fallen "about a third" from its height in the years prior.