Wu-Tang Clan Ate Nothing You Swum With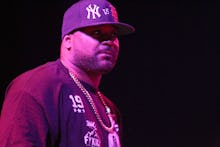 Hot sauce, lemonade, fish fillets, Hennessy and hot macaroni and cheese have all made it into the great rap songs of our time. But where's the tempeh? Songs about veganism could hit airwaves if Wu-Tang members turn their eating habits into lyrics. 
According to the Detroit Metro Times, Wu-Tang members RZA and Ghostface Killah stopped in Detroit Vegan Soul when RZA played a show at a Detroit venue a few weeks ago. The owners snapped a picture with the duo and uploaded the shot to Facebook this week. 
The pair loved the "catfish" tofu dish, pictured in the Instagram below. The tofu is battered in cornmeal and "actually tastes like fish or chicken," one customer exclaimed in this video. 
RZA's choice of vegan food isn't that surprising to fans who know him well: The dedicated vegan rapper partnered with PETA back in 2014 to promote awareness of animal cruelty and his album "A Better Tomorrow." 
"I think hip hop is becoming more conscious, you know, of diets," RZA said in the PETA promotional video. He said he thinks the trend started with KRS-One's song "Beef," which was released in 1990 and drops knowledge about disgusting meat slaughterhouse practices. 
None of the nine current Wu-Tang Clan members eat pork and four of them are vegetarians, GZA told Eater back in 2010. 
Maybe a dairy-free C.R.E.A.M. single or "Enter the Tofu Aisle" album is in order?