Taylor Swift Showed Up at a Couple's Wedding and Gave Them the Best Present Ever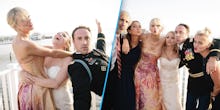 Taylor Swift made a surprise appearance at a fan's wedding over the weekend.
People reports that the festive surprise had been in the works since April, when groom Max Singer's sister Ali secretly contacted Swift's camp with a heartfelt request:
Ali reached out to [Swift] about the death of her and Max's mother in a touching letter, telling Swift how her brother had wed his wife in the hospital so their mom wouldn't miss out on one of the biggest days of her son's life.
Because of this emotional connection, Swift performed an impromptu rendition of "Blank Space" at the reception. So it's gonna be forever!