Texas Congressman Tells Off Donald Trump: "Take Your Border Wall and Shove It Up Your Ass"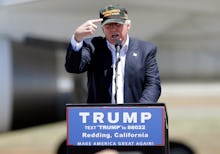 He's not mincing words.
Rep. Filemon Vela, a Texas Democrat, told Donald Trump exactly what he wants him to do with his proposal to build a bigger wall along the U.S.-Mexico border.
Read more: Donald Trump Blames "Thugs" and "Illegals" for Violence at His Rallies
"Mr. Trump, you're a racist and you can take your border wall and shove it up your ass," Vela wrote in a letter to Trump, first reported by the Texas Tribune.
Vela, who is of Mexican descent, represents a congressional district located along Texas' border with Mexico.
In his letter, he said he did not speak for all Mexican-Americans, but expressed disgust with Trump's rhetoric about Mexicans.
"While you would build more and bigger walls on the U.S.-Mexico border, I would tear the existing wall to pieces," Vela wrote in the letter. "Why any modern-thinking person would ever believe that building a wall along the border of a neighboring country, which is both our ally and one of our largest trading partners, is frankly astounding and asinine."