Muhammad Ali Credited Grapefruit Juice for His Enviable Abs and Sharp Focus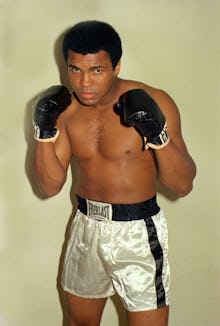 What does it mean to have been Muhammad Ali? 
The great boxing champion, who passed away on Friday at 74, built his legendary career on the foundation of discipline. "He was the first guy in the gym, and the last to leave," Angelo Dundee, Ali's late longtime trainer told Men's Fitness. 
Ali's gold medals and lasting reputation for being the greatest of all time can be somewhat attributed to his self-government and will to be the best. His diet, too, reflected this powerful drive within the boxer. 
For the most part, Ali ate quite healthy. Instead of going down the Michael Phelps road of stuffing thousands of calories worth of pancakes, pizza and ham and cheese sandos in his system, the boxer stuck with mostly "all natural foods," Muscle Prodigy reported.
Breakfast was important to Ali. In his book The Greatest: My Own Story, the champ wrote that his first meal of the day typically included "poached eggs, wheat toast and grapefruit or orange juice." He was particularly partial to unsweetened grapefruit juice because he believed it helped to keep "the fat off of [his] stomach" and it made him "feel good mentally." 
As for lunch and dinner, he kept it simple. Ali wrote he ate "fresh vegetables, good lamb, veal, squab, [and] fish." As for drinks, the champion boxer wasn't one for coffee, soda or booze. "I drink nothing but distilled water and fruit juices," he wrote. 
A few sweet somethings
When the three-time world heavyweight boxing champion did indulge, the indulgences carried their own weight. To celebrate his victory over Sonny Liston on February 25, 1964, Ali ate ice cream with Malcolm X, the African-American nationalist and religious leader, the Kansas City Star reported. 
The boxer's interest in healthy food extended beyond his own diet. In 2006, he announced plans to launched his own line of "reduced-calorie foods and beverages for young adults" under the moniker of GOAT Food and Beverage (GOAT standing for "greatest of all time"), according to the New York Times. Snacks had names like "rumble," "shuffle" and "jabs" and "finger foods baked into vaguely signature shapes like boxing gloves and punching bags," the Times wrote. 
"I believe that better nutrition and respect for the mind and body will give everybody today the opportunity to rise above and be the best they can be," Ali said in a statement regarding the launch of his new food endeavor. 
While the snacks did receive some slack from nutritionists, and have since seemingly been discontinued, Ali's nutritional mantra is still one healthcare officials are working to instill into the country's DNA. Perhaps his pitch was just a little too early.