Gov. Andrew Cuomo Just Took a Stand to Punish New Yorkers Boycotting the State of Israel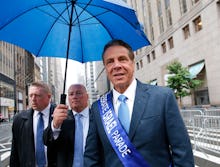 New York Gov. Andrew Cuomo signed an executive order Sunday which bans the investment of "public funds" in any organization or company which supports the Boycott, Divestment and Sanctions of Israel. 
While some applauded the governor, others said the executive order was unconstitutional. 
BDS is part of a political movement started in 2005 that seeks to put pressure on Israel to comply with international law and afford human rights to Palestinians.
Read more: Israel Just Hosted Its First Transgender Beauty Pageant
Jewish Voice for Peace explains it would support the BDS movement until Israel "[e]nds its occupation and colonization of all Arab lands occupied in June 1967 and dismantles the Wall; recognizes the fundamental rights of the Arab-Palestinian citizens of Israel to full equality; and respects, protects and promotes the rights of Palestinian refugees to return to their homes and properties as stipulated in UN Resolution 194."
Cuomo bypassed the New York Legislature, instead deciding to unilaterally enforce the law. He said, while speaking at the Harvard Club, BDS was an "economic attack" against Israel and "we cannot allow this to happen," the New York Times reported.
"If you boycott against Israel, New York will boycott you," he added. 
The governor signed the order immediately prior to attending the Celebrate Israel Parade.  
The hotly contentious issue predictably produced impassioned reactions. Some commended Cuomo's explicit political and ideological alliance with Israel, including a number of high-profile politicians and activists. 
New York State Assemblyman Dov Hikind supported the decision:
As did Anti-Defamation League CEO Jonathan Greenblatt:
And Israel's ambassador to the United States, Ron Dermer, thanked Cuomo:
However, others argued the move was unconstitutional — violating freedom of speech — and that it harks back to the McCarthy era.
"Legal experts have described this long pending anti-boycott policy as '21st-century McCarthyism,' warning it would effectively create a discriminatory 'blacklist' of Palestinian human rights advocates who endorse boycotts like those organized in order to combat U.S.-backed apartheid in South Africa," Ben Norton wrote in Salon.
Many used social media to express similar concerns and disapproval:
A similar bill to Cuomo's executive order was nixed from the New York Senate in May.
This was in response to the New York's Freedom to Boycott Coalition's gathering the signatures of over 100 organizations for an open letter denouncing anti-boycott legislation. NYFBC dispatched the letter to every assemblyperson and senator of New York State.
"[Such laws create] unconstitutional blacklists," the letter stated. "We share deep concerns about unconstitutional attacks on boycotts, a form of protected political speech. We call on you to stop this legislation and oppose any similar efforts."
"We are counting on you to defend free speech and reject this new version of McCarthyism," they concluded.