Chrissy Teigen and John Legend Teamed Up for a Muhammad Ali Takedown of Piers Morgan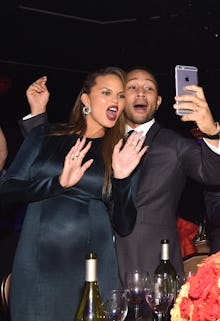 After professional troll journalist Piers Morgan tweeted that late boxer Muhammad Ali said "far more inflammatory/racist things about white people than Donald Trump ever has about Muslims," clapback queen Chrissy Teigen and her passive-aggressive partner in crime John Legend delivered a knockout rebuttal.
After tweeting his thoughts about the boxing champion and iconic figure in sports, Morgan had a final slap in the face on Twitter: "I hope people don't make me sound too perfect when I die. No coats of sugar please."
A displeased Legend uncharacteristically injected himself into the beef before his wife even saw it coming, writing, "you could test us by announcing your retirement."
Teigen's Twitter fingers were quick to the pun following Legend's dig. "From what?" she tweeted in response. "Trolling isn't a job (I've tried.)"
When Morgan tried to come back with a personal jab against Teigen, the not-so-thinly skinned model fired back, suggesting Morgan's comments about Ali following his death were racist and unkind:
In case you needed any more proof Teigen and Legend are the all powerful king and queen of #RelationshipGoals and the art of clapping back, the pair had GQ magazine create an award for them over the weekend in just 140 characters. 
Teigen asked GQ recognize her man's tuxedo from Saturday night, to which GQ's Twitter account replied, "Congratulations @JohnLegend for winning the first annual GQ award for best tux worn by John Legend."
No one man should have all that power. Hence why the Twitter clap back kingdom is led by both Legend and Teigen.
Read more: Chrissy Teigen Just Won Her Husband John Legend an Award — All Thanks to a Single Tweet