Rodrigo Duterte, the "Filipino Trump," Tells Murderous Vigilantes "You Have My Support"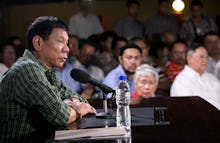 Rodrigo Duterte, the president-elect of the Philippines, again urged citizens to join in a campaign of murderous vigilantism against drug dealers and criminals this week.
In a nationally televised address, Duterte told voters "if [a drug dealer] fights, and he fights to the death, you can kill him," CNN reported. "Please feel free to call us, the police, or do it yourself if you have the gun ... You have my support. Shoot him and I'll give you a medal."
During the speech, Duterte increased his pledged bounty on drug lords of 3 million Philippine pesos ($65,000) to 5 million Philippine pesos ($108,000), CNN reported.
"I'm not saying you that you have to kill them, but the order is 'dead or alive,'" the president-elect added. For corrupt cops, he said, "If you are still involved in drugs, I will kill you. Don't take this as a joke. I'm not making you laugh. Son of a bitch, I'll kill you."
The statement more or less effectively sends the signal to Filipinos that vigilante murder is not only OK, but is actually supported by the state. Duterte, in addition to bigoted statements on the campaign trail, is infamous for his involvement with death squads during his mayorship of Davao City. He has admitted to murdering people as a vigilante before.
"Me?" he asked during a local broadcast. "They are saying that I'm part of a death squad. True, that's true." He is known as "The Punisher" in Davao City for his role on death squads.
On the campaign trail, Duterte promised to spread his murderous brand of vigilantism to the entire country, which has long been plagued by violent crime and saw massive increases in organized criminal activity in 2015. 
"I will use the military and the police to go out and arrest [criminals], hunt for them and, if they offer a violent resistance ... I will simply say, 'Kill them all so we can finish this problem,'" Duterte said, according to CNBC. He pledged five heads a week until the crime problem is resolved.
Read more: Meet Rodrigo Duterte, the Donald Trump of the Philippines