One Tweet Destroys Stanford Sex Offender's Dad's Disgusting Defense of His Son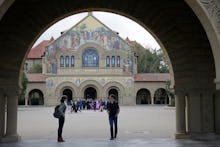 On Sunday, journalist Lauren Duca tweeted an image of a letter penned by Dan Turner defending his son Brock, the former Stanford University student who was found guilty of sexually assaulting an unconscious woman behind a dumpster. Turner addressed the statement to the judge presiding over Brock's case, asking that he look kindly on his son with regards to sentencing — prison, he wrote, would be a "steep price to pay for 20 minutes of action out of his 20-plus years of life."
Duca called it like she saw it: "RAPE CULTURE," she wrote on Twitter, "Brock Turner's dad is sad he only got '20 minutes of action' & doesn't even like eating steaks anymore." 
Now, @AlexandraOzeri, in what is to date her one and only tweet, joined the Twitter conversation to take a stab at the rape culture inherent to Turner's letter, adding some necessary context. She tweeted a screenshot of her handiwork with the caption, "Here, I fixed his letter (changes in bold)..."
Ozeri first takes on some back-breaking euphemisms: "the events," becomes "raping an unconscious woman," the "anxiety, fear and depression" Turner says his son was consumed by becomes "not taking responsibility for the rape he committed." 
All of the details on Brock's history as a good student, a "positive contributor to society" and the fact of his lack of prior criminal history are put in perspective. "Bringing up the fact that this was only his first rape is like bringing up that it's somebody's first murder or terrorist attack, so it's still a crime," Ozeri writes. The other points on Brock's swimming career and lost potential are "cute details" that "don't have anything to do with the rape he committed," according to Ozeri.
And her repeated reminder: Any punishment that befalls Brock — for example, the extremely brief six-month jail sentence the court allowed him because any more time would "severely impact" his well being — is his own fault. After all, says Ozeri, "he screwed his own life and many other lives by raping someone." 
Any questions?
Read more: Sexual Assault Survivor Makes a Powerful Statement to Brock Turner in Court
Correction: June 7, 2016
Correction: June 9, 2016