Gigi Hadid's Latest Versace Ad Wanted to Show Off Chicago — But Failed Miserably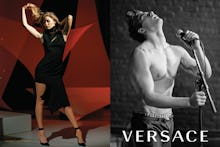 Versace's fall 2016 ad campaign was supposed to be imbibed with the spirit of the city of Chicago, but critics have pointed out that it does, well, exactly not that. 
The campaign stars supermodels Gigi Hadid and Karlie Kloss posing with handbags, pickup trucks and a bevy of well-dressed men. In one shot, Hadid poses as a mother, holding a young boy's hand while an attractive male model, Marcus Watts, smiles lovingly at her while pushing along a stroller down a sidewalk. In other, she dances in a dark room by herself. 
Six images from the campaign have been released and in those images, there are more than 25 models cast. Among them, only two are people of color. 
In 2010, according to a citywide census, Chicago was 45% white, which means that a majority of residents reported being nonwhite. In 2015, with a population of more than 2 million people, less than half were reported to be white. In reality, Chicago is city made up of mostly black and Hispanic and Latino individuals. It is a city in which 64 people were shot in one holiday weekend. 
Read more: More Americans Were Shot in Chicago Over 16 Hours Than by Muslim Terrorists in All of 2016
What the Versace ads portray is a city without conflict, with blonde, bouncy-haired models lounging around with multi-thousand-dollar handbags in a setting that very well could be a soundstage in Los Angeles. 
"Bruce decided we should shoot in Chicago," Donatella Versace told the New York Times, in regards to famed photographer Bruce Weber's photographs. "I didn't know it at all. But the city is so multilayered." 
And yet, in the images released from the campaign, it looks no different than any other luxury brand trying to attract customers to its expensive garments and accessories. Rather than drawing from the city's immense culture, they opted to go the traditional glamour route ignoring the very fabric that makes Chicago, in the words of author Rush C. Butler, "the world's youngest great city."
But the city of Chicago is not on display at all in these images. There's not even a picture of the Bean. Instead, what viewers get is a glamorized portrait with a bunch of pretty model types. The lack of creative thought that went into this is much like when Junya Watanabe and Valentino both hosted African-inspired runway shows and did not cast a single model of color. 
What's particularly puzzling is that Weber had actually done his research, telling the Times: "I had read a story in the New Yorker about a pastor called Father Mike, who is pretty controversial, and it caught my imagination. I went to hear him speak before we started shooting, and he was talking about politics and the need to restore old neighborhoods, and it made me think I wanted these pictures to mean something to the city." 
What's even more curious about that is that Versace actually made an effort to bring in non-models. "We started with three women — models — and a few male models, and then we added a lot more men we just found in the city," she told the Times. "In the end, there were 26 men and 17 were not models. There was one opera singer, some dancers ... And then Bruce put together all kinds of very diverse families in the pictures."
But you really can't tell that, can you? All the men in the images released so far are objectively attractive, with chiseled jaws and slim waistlines. So it's not like they went out into the city's closest fire station and yelled, "Who wants to be a model in a Versace ad campaign with Gigi Hadid?!" They scoured the city for the most attractive, and went from there. 
The man posing beside Kloss next to the car is a former bodyguard and Afghanistan veteran, and yet you would never know that by looking at the pictures, making this a missed opportunity. 
Sure, it's pretty fabulous that they're bringing in people who aren't models, and Afghanistan vets at that, but to bring in a nearly all-white cast into a campaign inspired by Chicago appears tone deaf. Although Versace did apparently bring in hip-hop dancers from the streets, none are shown in the first few images, and that's a shame. 
In addition to the erasure of Chicago as a whole, people have also called out that Hadid is portraying a mother at only 21 years of age. There is such a thing a teenage mother, so there's no real strong argument here, but people on Twitter pointed out her age. 
The child in the picture of Hadid and the young family, which is interracial, has even gotten heat, with many offended that the little girl is strapped into her stroller with a chain. 
Although we may never know exactly why she is, Donatella Versace seemed to have heard this criticism, and posted a picture of herself with the young girl with the caption, "Her name is Brianna and she is so cute!" 
Given that big names like Kloss and Hadid are featured in this campaign, there is a much more precise microscope on these images, with people seemingly ready to pounce on whatever they deem unfit. Unfortunately, Versace gave them a lot to ponder, from the erasure of Chicago to the nearly all-white casting to the young mom, to even the baby. 
With more images and a video from the campaign expected to roll out, let's hope that those encapsulate the city of Chicago more accurately and celebrate what it has to offer.