Here's How Online Cam Girls Make Big Money, From the Privacy of Their Own Bedrooms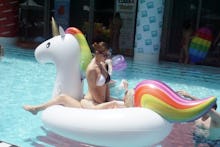 On a sweltering summer day in South Beach in Miami, Florida, half a dozen cam girls attending Cam Con, a conference for online erotic performers, decided to shed their bikini tops and swim in the hotel pool. They giggled, splashed, lounged on inflatable animals and made emphatic gestures towards their sun-kissed torsos and gyrating breasts. But the pool party had been relatively tame until Cam Con cofounder Stacy Havoc jumped into the pool topless, prompting the other women to cheer and the DJ to crank it up.
People didn't just flock to join 28-year-old Havoc because of her curvy figure, flowing hair and lean, tan limbs. She's one of the most successful and business-savvy cam girls working today, having moved up the ranks from cam performer to director and Playboy TV producer. By the time Havoc retired from camming three years ago, she said she was making $7,000 to $10,000 a week.  
Havoc is one of a growing number of women who have "made it" in the online adult entertainment industry, becoming financially independent and wealthy enough to invest in her own business ventures. 
"More women are directing and producing [adult content]," Havoc said at Cam Con in Miami. "I think we [cam girls] are changing the industry, there's just so many of us. Hundreds of thousands." 
Although thousands of men have joined the estimated billion-dollar camming industry worldwide, the vast majority are women, often referred to as "cam girls." The burgeoning webcam industry has provided more opportunities for women to network with business influencers and take charge of their own careers, whether behind or in front of the camera. 
While there isn't much data as to how fast the camming industry is growing and how much money is really being made, Clinton Cox, Havoc's husband and Cam Con's co-founder, led an internal case study with half a dozen sites over six months, monitoring the front pages with top "rows" of popular performers. Cox said even this limited sample revealed that at any given time, an average of 25,000 models were performing live for a quarter-million fans and clients. 
"Profits are definitely going up, social media [promotion] is trending. [Performers] are mainstreaming adult entertainment," 44-year-old Cox said in Miami. Cox is an industry veteran who, with Havoc, created the World Wide Modeling Network for cam performers. Their network is collaborating with United Healthcare and Wells Fargo to help cam models manage their health insurance and retirement funds by inviting fans to pay medical bills and sponsor retirement savings.
The number of businesswomen venturing into camming is shaking up the whole sex industry's power dynamic, Shirley Lara, the Chief Operating Officer of the popular subscription site Chaturbate, said.
"It's still a male-dominated industry," Lara said. "As a woman executive, it's very hard to break into ... what I do see is broadcasters. They're taking control ... Now they are in complete control of their careers." 
For decades, women were largely excluded from the business side of the porn industry. As Jane Liszewski, vice president of sales and marketing at Classic Erotica, succinctly put it in her profile on the Women In Adult industry website: "Thirty years ago, this industry was basically male-run and male-driven."
Even in today's traditional porn market, male bosses typically control the means of production, while female performers often make significantly less money than directors and male co-stars. Unlike Hollywood actors or other types of performers, porn stars don't earn royalties. 
Many camming sites do take a sizable chunk of the profits performers reap on their platforms, occasionally even more than half their earnings. But they also offer performers the opportunity to start their own businesses, control their content and build their personal brands without industry gatekeepers. Film editing and production experience from running their own webcam shows can help performers develop technical skills as well.
"Unlike a porn star, who is going to be told 'we want these positions this way,' we have control. Cam models have the control," Havoc said. "It's safe. You're not going to get touched or groped like in a strip club. If you feel uncomfortable at any time, you close the computer and block them." 
Havoc also said there's more options for cam models to protect their privacy than porn performers. Cam models can choose when to block local IP addresses, how to moderate their chatrooms and and where to promote online if they want to keep their real identities private, even only filming below the neck if they don't want to show their face. 
Yet camming isn't as lucrative for every performer as it was for Havoc. Cam girl blogger amanda36C, for instance, estimated that the average cam performer earns below minimum wage after site commissions and behind-the-scenes work are taken into account. 
"Work toward becoming truly independent," amanda36C wrote in the blog post Camgirl Advice. "Trust no one in the industry. Remember that there is always someone earning more money from your content than you are."
Regardless of how much a cam performer makes, the job is fairly flexible: women can make their own schedules, set their own hours and determine when and how they're willing to appear on camera. Panel discussions in Miami about women moving up in the industry, from tech to marketing, filled the air with chatter about independence and female-solidarity. 
BDSM cam girl and entrepreneur Tequila Mockingbird said that camming has made her feel more confident and helped her explore new facets of her sexuality. She sees this work as an expression of sexual freedom. 
"I am a feminist. I believe if you choose to do the work and you love it, it's empowering," Mockingbird said. "We've gone through the corporate world, [and now are] choosing to do something else." 
Yet not every performer has such a positive experience in the industry. When cam performers' content is stolen from a subscription site and posted elsewhere, for instance, they're on their own in the legal battle to take it down, which can often be time-consuming and costly. 
Self-employed performers must grapple with the social stigma of sex work by themselves. Online harassment, for instance, is widespread in the industry. Texas performer Finely Fawn has documented her struggles with online harassment and visitation rights with her son after courts deemed her an unfit mother because of her job and granted her ex full custody. 
Furthermore, global camming networks leave room for exploitation of performers. All official sites conduct rigorous background checks in accordance with the federal law 2257 Reporting Requirements, which requires broadcasters to verify their age with a government-issued ID to make sure they aren't underage. But according to industry website XBiz.com's report on global markets, American models make up less than 15% of the performers on Cam.com, one of the top camming sites, while countries like Romania and Colombia, where such regulations are less likely to be enforced, are home to the bulk of performers. There have been reports of men in such countries setting up private studios for young, female cam models. Some sites have banned models from the Philippines altogether, due to reports of child abuse by webcam broadcasters.
One performer in Bucharest wrote a somewhat harrowing account of her time in the industry that contradicts the empowering narrative set forth by Cam Con performers. "Working in a studio as a webcam model its like keeping a wild beast into a cage ... You have to work a number of hours [and] you don't have legal working papers," she wrote. "[When] your boss is calling you in the middle of the night asking you to have a quickie, otherwise you'll take the consequences!"
Stateside, Cox and Lara said they have never heard of cam performers being exploited in such a manner. Lara was also quick to point out that Chaturbate reports any suspicious account behavior to local authorities. Yet it's unclear how local safety measures will expand to match the global market, which is now flooded with erotic webcam businesses providing interactive porn directly to consumers.
However, those who enjoy the flexibility of working online and publicly exploring their sexuality say they're in it for the long haul. 
"It's really boosted my self esteem and self confidence," performer Kayden Kortica said. "I worked so long at an office where I was told 'here is what you will make.' I want the amount of money I make to be up to me. It's very empowering."