Lonnie David Franklin Jr., LA Serial Killer Known as 'Grim Sleeper,' Sentenced to Death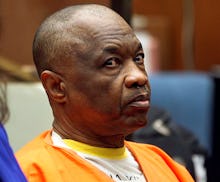 A Los Angeles jury Monday has returned the death sentence for Lonnie David Franklin Jr., a convicted serial killer known as the "Grim Sleeper," for at least 10 murders over 22 years.
The murders "were so vicious, they were so calculated and they were so demeaning," Deputy District Attorney Beth Silverman said during closing arguments, the Los Angeles Times reported. "The way that these women ended up, half of them naked ... all of them in filthy alleys."
Read more: These Are the Black Women Who Were Murdered by an LA Serial Killer Called the Grim Sleeper
According to the Times, Franklin targeted black women, especially sex workers in South Los Angeles amid the boom days of the crack cocaine black market in the 1980s. Franklin evaded detection and capture due to both a rise in drug-related slayings and "several other serial killers [who] were operating in the same area in those years," though critics have long argued law enforcement failed to adequately prioritize the case due to the race and profession of the victims. He earned the title "Grim Sleeper" via a supposed hiatus in the slayings from 1988 to 2002, though authorities later suspected he never ceased killing at all.
Activists working with the Black Coalition Fighting Back Serial Murders, "kept Franklin's alleged victims' names alive through persistent media advocacy," Mic reported in May. They include Debra Jackson, 29; Henrietta Wright, 34; Barbara Ware, 23; Bernita Sparks, 26; Mary Lowe, 26; Lachrica Jefferson, 22; Alicia Alexander, 18; Princess Berthomieux, 15; Valerie McCorvey, 35; and Janecia Peters, 25.
Police believe the full tally of Franklin's crimes may never be determined. He is believed to be linked to at least 25 homicides.
Whether the death sentence will be carried out is another open question. The state of California has not executed any prisoners found guilty of capital crimes since 2006, according to the state Department of Corrections and Rehabilitation, although triple murderer Alfredo Rolando Prieto, was extradited to Virginia and executed by lethal injection in 2015.
Correction: May 6, 2016
A previous version of this story erroneously reported when Mic reported on Franklin's alleged victims' names. It was first reported in May.