Spiked Seltzer Is Here, and It'll Get You Buzzed for Fewer Calories Than Beer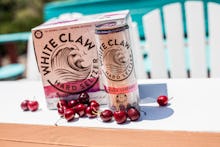 Seltzer is getting a slick makeover just in time for summer: The bubbly beverage is getting booze-ified. That's right, you'll be able to get buzzed off of seltzer for fewer calories and carbs than beer. 
Four companies in particular are betting on hard seltzer, according to Ad Age. Boston Beer Co, the makers of Sam Adams recently released Truly Spiked & Sparkling, Wachusett Brewing launched "Nauti Seltzer," and Mark Anthony Brands, owner of Mike's Hard, launched White Claw Hard Seltzer. There's also SpikedSeltzer, which launched way back in 2013, effectively making it the OG of hard seltzer. 
Seltzer itself has been one of the fastest-growing drinks in America, the Washington Post reported. Sparkling water sales grew by 20% in 2015 alone, and many in the industry attribute this to consumers' thirst for healthier sips. American consumption of cola has fallen to the lowest point in four decades, noted the Washington.
Bottoms up: Hard seltzer tastes just like regular seltzer, so it would be easy to knock back real quick, for better or for worse. 
Truly Spiked & Sparkling and White Claw both offer several fruit-infused flavors including Black Cherry, Ruby Grapefruit, Pomegranate, and Colina Lime. All the flavors are 5% alcohol and contain alcohol from "cold-brewed sugar," which is roughly vodka made from sugar. Each serving is under 110 calories and has roughly 1 to 4 grams of carbs per 12 ounces. That's more alcohol and fewer carbs than Bud Light, which has 110 calories and just 4.2% ABV. Meanwhile, Bud has 5% ABV, 145 calories and 10.6 g carbs. 
This reporter and her team found the hard seltzers to be light and refreshing, with a pleasant fruity aftertaste. Think of it as vodka soda's cooler, hipper sibling that buys you alcohol when you're underage but also helps you sneak back before curfew. The alcohol factor? Basically undetectable to our taste buds. 
The subtle sweetness is just enough, though if you favor super sugary drinks — ahem, restaurant margaritas — then you might think hard seltzer tastes too much like a diet drink. 
But the bubbles! Hard seltzer engulfs your mouth in a cascade of clean-tasting effervescence. Pop bottles, or cans, of boozy seltzer this summer and feel the joy yourself.