One Tweet Perfectly Explains the Horrifying Stanford Rape Case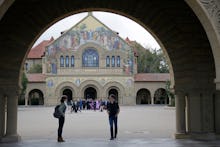 Last week, convicted sex offender Brock Turner was sentenced to only six months in county jail after sexually assaulting an unconscious woman outside a frat party in January of 2015, causing widespread outrage from many who claimed the punishment was too lenient. 
In delivering his six-month sentence, Santa Clara County Superior Court Judge Aaron Persky said that "a prison sentence would have a severe impact" on Turner. Turner's father penned a leaked letter to Judge Persky decrying the loss of the life that his son "dreamed about and worked so hard to achieve."
But this tweet nails why we all need to stop thinking about Turner as a star athlete or a Stanford student gone awry.
Yup — Turner's athletic achievements don't have anything to do with the fact that he's a convicted sex offender. And we need to stop thinking about him as some sort of special case.
Author Lauren DeStefano, who sent the tweet about Turner, also went off on Turner's father's defense of his son's actions.
Turner's mugshot was finally released on Monday.
Correction: June 7, 2016