The Neo-Nazi (((Echoes))) Symbol Is Officially Hate Speech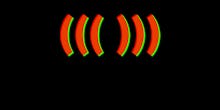 Impact
By
Cooper Fleishman and Anthony Smith
Following Mic's investigation into ((())), the "echo" symbol used by white supremacists to identify and target Jews for harassment, the Anti-Defamation League has added it to "Hate on Display," its online database of hate symbols.
"The echo symbol is the online equivalent of tagging a building with anti-Semitic graffiti or taunting someone verbally," said ADL CEO Jonathan A. Greenblatt in a press release Monday.
Mic traced the origin of the symbol to the right-wing extremists at The Daily Shoah, a white supremacist podcast with a virulently anti-Semitic bent. The ((())) symbol, which symbolizes how the corruption and decay of Western society at the hands of the Jews "echoes" through the years, first appeared in a 2014 episode. The word "Shoah" comes from the modern Hebrew word for "holocaust."
Trolls attach the ((())) symbol to the name of their target. One user described it as a "dog whistle." Another called it "closed captioning for the Jew-blind." Once a name like (((Fleishman))) is tweeted out with the parentheses around it, white supremacists begin to dog-pile abuse onto the victim, flooding his or her Twitter timeline with hate speech like anti-Semitic memes and rape and death threats.
This is just a small snapshot of what happened when Mic staff members found themselves in the crosshairs:
"We at ADL take this manifestation of online hate seriously, and that's why we're adding this symbol to our database and working with our partners in the tech industry to investigate this phenomenon more deeply," Greenblatt said.