Stanford Sex Offender Brock Turner's Mugshot Photo Has Been Released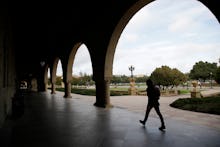 After widespread criticism, the Santa Clara county sheriff's office has finally released the mugshot of Brock Turner, the 20-year-old convicted sex offender and former Stanford University swimmer whose lenient sentence for the sexual assault of an unconscious woman made headlines and caused outrage last week.
In January 2015, Turner was found assaulting a woman outside of a frat party. In March, Turner was convicted of assault with intent to commit rape of an intoxicated person, sexually penetrating an unconscious person with a foreign object and sexually penetrating an intoxicated person with a foreign object.
But when his sentence was handed down last week, Turner received only six months in a county jail, instead of the six-year sentence prosecutors had initially recommended. In defending his decision, Santa Clara County Superior Court Judge Aaron Persky cited Turner's well-being, and claimed prison would have had a "severe impact" on him.
And media outlets, including Mic, were forced to use smiling yearbook photos and video stills from Turner's trial rather than his mugshot — which hadn't been released to the public.
But, after pressure, the sheriff's office finally released his latest booking photo, taken June 2, on Monday afternoon. Late on Monday, Turner's original booking photo, taken after his January arrest, was also released, reported the Huffington Post.
It may not do anything to change his short sentence, but seeing Turner's mugshot will help even things out in the court of public opinion.
June 8, 2016, 8:04 p.m. Eastern: This story has been updated.
Correction: June 8, 2016