Hillary Clinton Clinches Democratic Nomination Hours Before Final Primaries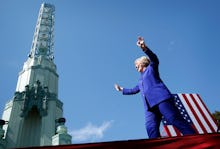 Hillary Clinton has secured the 2,383 delegates required to win the Democratic presidential nomination, becoming the first woman ever to become a major party's standard-bearer — a development Clinton called "historic [and] unprecedented" during a Long Beach, California, campaign appearance.
According to the Associated Press, Clinton has now garnered enough support from pledged delegates and superdelegates — party elites who can pick any candidate of their choosing — to defeat challenger Bernie Sanders.
Clinton's triumph comes one day before primary contests in New Jersey, where she leads Sanders by double digits, and California, where polls show a tight race and Sanders hoped to upset the former secretary of state.
But Clinton's multiethnic coalition of voters powered her to victory in crucial nominating contests leading up to the race's denouement. Those wins allowed her to build a delegate lead that all but assured Clinton of the nomination regardless of the outcome in the Golden State. Victories in Puerto Rico and the Virgin Islands over the weekend further bolstered Clinton's advantage.
Now that Clinton has secured a majority of delegates even before the final primary contests, Sanders is likely to face escalating pressure to exit the race after Tuesday. The senator has vowed to take his campaign to the Democratic National Convention in July, but he said Monday that he'd "assess" the state of his campaign following Tuesday's contests, the Washington Post reported.
In a statement Monday night, Sanders' campaign called it "unfortunate" that media outlets were projecting Clinton had secured the nomination prior to the Philadelphia convention.
For her part, Clinton isn't resting on her laurels, emphasizing the six primaries slated for Tuesday.
Meanwhile, the New York Times reported Monday that President Barack Obama — who defeated Clinton in her 2008 presidential primary quest — is set to endorse his former chief diplomat after the final votes are cast.
June 6, 2016, 9:33 p.m. Eastern: This story has been updated.