Lin-Manuel Miranda and Other Broadway Stars Join James Corden's Carpool Karaoke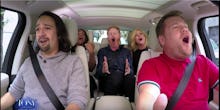 While James Corden made the ill-advised choice to drive his car through New York City's crowded Broadway, he did at least find himself in some good company. In The Late Late Show host's latest Carpool Karaoke, Corden — who will host the Tony Awards on Sunday — was joined by Hamilton creator, co-star and Pulitzer Prize winner Lin-Manuel Miranda, along with other Broadway stars Jesse Tyler Ferguson, Jane Krakowski and Audra McDonald. 
The four carpoolers helped Corden recite some of Broadway's most iconic hits, including Rent's "Seasons of Love," which was met with a chorus of "awws" from the car. "Hang on, wait," Corden says. "That was the most Broadway response to hearing an opening of a song." 
"This old chestnut," Ferguson replies. 
While it was a Broadway-themed ride, Corden couldn't help but ask Ferguson and Krakowski, who star in TV series Modern Family and Unbreakable Kimmy Schmidt, respectively, whether they prefer "theater or money." However, they both agree there's nothing quite like theater. 
"With the inner exchange between the audience, it's why you keep coming back," Ferguson says. "I'm happy I keep getting asked back."
The ride culminated with an improvised rendition of Les Misérables' "One Day More," with Miranda as an impassioned Jean Valjean. Clearly, this car ride alone would be worth some price of admission. 
You can check out the full Carpool Karaoke segment below: 
Read more: George Clooney and Julia Roberts Hitch a Ride in Gwen Stefani's Carpool Karaoke