Only the Ku Klux Klan Can Fairly Judge Donald Trump, According to Stephen Colbert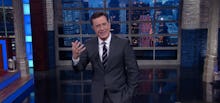 Late night host, political commentator and comedian Stephen Colbert dug his claws deep into presumptive Republican nominee Donald Trump during Monday night's Late Show With Stephen Colbert.
The controversial (yet somehow highly supported) Republican candidate's Trump University woes are coming back to haunt him in the form of a lawsuit — which was Colbert's prime focus during his extra-hot Trump roast. He attacked the billionaire for lambasting the Mexican-American judge, offering a solution to whom could possibly give the Trump U case the impartial read it truly deserves: the Ku Klux Klan.
"Trump's point is that he cannot be judged by a member of any group that he has offended," Colbert said. "So that means no Mexican judges, no Muslim judges, no Asian judges, no women judges — unless she's a 10 — Trump's insulted the Pope so no Catholic judges, he called everyone is Iowa stupid, so no judges that eat corn."
"It's hard for me to trust Trump," Colbert admitted. "My Irish heritage makes me want to fight anyone who looks that much like a potato."
"You know what? Maybe Trump might be more comfortable if he couldn't tell the judge's race or gender," he continued. "Maybe cover the judge up in an unbiased robe ... make it a white robe, maybe with a matching hood, that seems about right."
He then moved onto Trump's recent comments regarding African-Americans — or, rather, the sole African-American he could spot in his audience during a campaign stop, who turned out to not even be a Trump supporter. 
"Well, it shocked some people but Trump did say he was going to start acting presidential," Colbert said. "'Look at my African-American' does sound like something Thomas Jefferson might've said."
Check out Colbert's monologue below:
Read more: The Man Donald Trump Called "My African-American" Isn't Even a Trump Supporter