This Is Kim Kardashian West's Message to Anybody Who Doesn't Want to See Her Nudes Anymore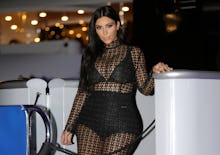 Kim Kardashian West let out one big sigh Monday morning in an interview on the Recode Decode podcast with Kara Swisher when she was asked a question she's likely heard a million times: "What do you think when you're about to publish one — like, when you take a picture, of yourself, naked for example?"
To be clear, Kardashian West could not care less what anyone thinks about her consistently visible behind — including you. 
"If you are conservative and that's how you are comfortable, more power to you. I respect you. You don't have to look at what I do."
"My personality has never been, 'I'm such a feminist and follow me and be naked!'" Kardashian West said. 
She did admit to "literally" being so shocked by the abundant response to one of her recent nude selfies with black censor bars in the vanguard of her privates, including the "outrage" as well as the support. 
When asked if she was trying to be provocative when posting some of her more controversial photographs to Instagram and Twitter, Kardashian West told Swisher she's "really not trying to cause a reaction," and only posts things because she thinks they look good. 
After posting her internet-breaking nude selfie in March, Kardashian West remade the photo with the help of international supermodel Emily Ratajkowski.
If Kardashian West is being earnest, it would mean the Iranian government's real-life theory that the reality star and entrepreneur is a nefarious spy working to corrupt the nation's youth is bogus. But the 35-year-old swears she's just like you — taking selfies on private jets, taking selfies in private tours through mansions and other countries, and taking selfies in meetings with powerful world leaders.
See? Just like us. Totes not a spy. Bible. 
Read more: Kim Kardashian West Is a Mind-Corrupting Spy, According to the Iranian Government