Beyoncé Just Won the CFDA Fashion Icon Award — No Surprise There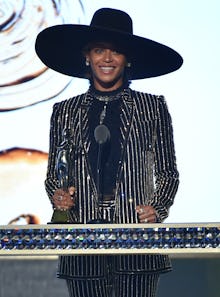 If the Met Gala is fashion prom, then the CFDA Fashion Awards is fashion homecoming dance. On the red carpet at the Monday night event held by the Council of Fashion Designers of America, designers mingled with models who mingled with celebrities. 
Lena Dunham wore bunny rabbit slippers, Olivia Wilde wore cutouts to expose her baby bump and Jourdan Dunn wore full-on sparkle. 
Inside New York City's Hammerstein Ballroom, awards like womenswear designer of the year and menswear designer of the year were doled out to Marc Jacobs and Thom Browne, respectively. 
But then Jay Z and Blue Ivy entered the room. 
And with their sneaky entrance, it was revealed that Beyoncé, the leader of the free world, was going to be the recipient of the Fashion Icon Award. Previous recipients include age-defying pop star Pharrell and Rihanna — who chose the occasion to show up nude covered in Swarovski crystals. 
Beyoncé, on the other hand, decided to show up in a bedazzled black Givenchy suit, with a wide brim hat a la the one she's been wearing for weeks now on her Formation World Tour. 
According to Vogue, the androgynous choice could have been a literal hat tip to David Bowie, who was being honored that night. As Vogue put it: "In her sparkling suit Beyoncé appeared to be tipping her hat to the louche glamour and androgyny of David Bowie who was this year's recipient for the Board of Directors's Special Tribute." 
Read more: How Beyoncé Is Bringing Fashion Diversity to the Mainstream
In her speech, which you can view a portion of below, she managed to mention her mother, how hard it was getting designers to dress her when she was in Destiny's Child and even Game of Thrones' Khaleesi.
"When we were starting out in Destiny's Child, high-end labels didn't really want to dress four black, country, curvy girls," she said in her acceptance speech. "And we couldn't afford designer dresses and couture." 
"My mother and my Uncle Johnny, God bless his soul, designed all of our first costumes and made each piece by hand, individually sewing hundreds of crystals and pearls, putting so much passion and love into every small detail," she continued. "When I wore these clothes on stage I felt like Khaleesi. I had an extra suit of armor. It was so much deeper than any brand name." 
She ended her speech by calling out her grandmother, uncle and her mother, who she said taught her that having a presence is "far more than the clothes you wear," "to never take no for an answer" and to live life on her own terms. 
Clearly, that's exactly what allowed her to get to that stage — and own it.