Real Estate-Themed Porn Is the Weird New Trend That's Becoming Popular Among Millennials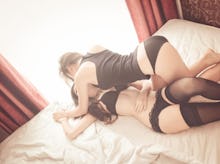 We all know millennials are having a hard time in the housing marketplace, but a new trend is taking that struggle in a new direction.
According to Vice, the Property Sex series is ranked No. 11 out of Pornhub's erotic channels, with 51 videos garnering some 385 million views and 56,000 subscribers. The loosely constructed plots often focus on young tenants who can't afford security deposits or are trying to avoid eviction, willing to pay in ass what they lack in cash. Many of the porn plots also have titles like "Real Estate Agent Desperate to Sell," featuring young, female real estate agents seducing potential buyers. 
On the channel's own website, propertysex.com, Americans make up the majority of web traffic, accounting for 25% of visitors according to Alexa rankings. 
Many millennial viewers can relate to the struggle to make rent or move out of their parents' house. Recent Pew Research Center reports show that for the first time on record, staying with parents is the most common living arrangement for Americans between the ages of 18 and 34. Home ownership among young adults with student debt plunged from 30% in 2008 down to around 20% in 2012, according to the Federal Reserve Bank of New York. 
Even though the economy has been slowly recovering from the recession, it makes sense why this theme would resonate with viewers. Rebecca Sullivan, a professor at the University of Calgary, told Vice she thinks the popularity of real estate-related kink is simply "this generation's answer to the pizza delivery boy fantasy," in which strangers meet during a standard financial transaction and the woman suddenly feels compelled to strip naked. The theme of the Property Sex series might be new and somewhat more elaborate — but the underlying dynamic is as old as smut itself.