Don't Worry — Serena Williams Doesn't Feel Ready to Have Kids Yet, Either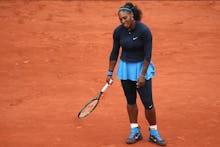 So you've always wanted to have kids, but it seems that the older you get, the less interested you are in trading in your free-spirited lifestyle for the drool-and-poop-soaked straightjacket of parenthood.
Well, that's okay. Because guess what: even legendary tennis player/Lemonade diva/general superwoman Serena Williams isn't prepared for that kind of life change! In a new interview with Glamour, Williams, 34, shared her thoughts on parenthood and aging: "I definitely want to have kids one day," she said. "That's something I've always wanted since as long as I could remember. And the older I get, the more I'm like, 'I'm too young!'"
Serena isn't the only 30-something woman delaying and/or opting out of motherhood. Since 1970, the number of childless women in America has doubled. Millennials in particular seem to be hesitant to start having kids, with the birth rate among American women declining 15% between 2007 and 2012. Reasons for the decline in birth rates vary widely, yet many women like Williams simply don't feel ready to become moms in the first place. 
"Hopefully I'll be able to mature one of these days, get serious, and at least have them pretty fast," Williams added in her Glamour interview.
Ah, yes. That magical day in the distant future when we wake up mature and ready to completely overhaul everything about our lives to have a baby. But hopefully it's still, like, many years from now. Especially for Serena! Because girl, you still got some grand slams left to win.