Serena Williams Is Now Highest-Paid Female Athlete on Earth — But Still Feels the Pay Gap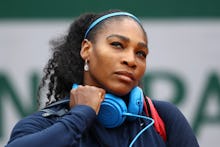 It's official: Serena Williams is now the world's highest-paid female athlete, surpassing previous record-holder Maria Sharapova with a total $28.9 million earned last year, Forbes announced Monday.
But despite the achievement, there remains one important caveat: Williams is not the best-paid athlete on Earth. She's not even the best-paid athlete in tennis.
That honor goes to the men.
Roger Federer — one of the men whom Indian Wells tournament CEO Raymond Moore said female tennis players should "go down on [their] knees and thank" because they've "carried this sport" — made $54.3 million over the past year. Rafal Nadal, the other man Moore referenced, made $32.4 million. 
It would seem that even a woman who's been called "the greatest athlete of her time" falls into the gender pay gap. 
And that's not something Williams is willing to abide, generous salary or no. When Moore made his sexist comments, she blasted him to the media, pointing out the staggering popularity she and her sister share and how many viewers they've brought to the sport. In a recent interview with Glamour, published Tuesday, she took on pay inequality directly, explaining, "Women deserve the same pay. We work just as hard as men do." 
"I've been working, playing tennis, since I was three years old," she said. "And to be paid less just because of my sex — it doesn't seem fair." 
Will I have to explain to my daughter that her brother is gonna make more money doing the exact same job because he's a man? If they both played sports since they were three years old, they both worked just as hard, but because he's a boy, they're gonna give him more money? Like, how am I gonna explain that to her?
Honestly, not a clue. It doesn't make an ounce of sense that even Serena Williams can't pull in what her male peers do. 
Read more: Watch Serena Williams Hit Some Incredible Tennis Trick Shots With Dude Perfect