Judge Aaron Persky Once Prided Himself on Being Tough on Rape — What Happened?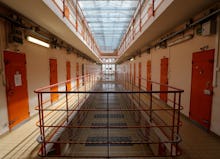 Santa Clara County Superior Court Judge Aaron Persky once prided himself on being tough on "sexually violent predators," despite what many people saw as his outrageous leniency in sentencing convicted Stanford sex offender Brock Turner. 
According to the Daily Beast, fighting sexual assault was once a top priority for Persky. In a 2002 bio for the California League of Women Voters, the Daily Beast reports him as writing, "I became a criminal prosecutor for the Santa Clara County District Attorney's Office, where I now prosecute sex crimes and hate crimes. I focus on the prosecution of sexually violent predators, working to keep the most dangerous sex offenders in custody in mental hospitals."
At the time, Persky was a deputy district attorney vying for his first judiciary position, according to Mercury News. 
The Daily Dot also found he was a board member for the Support Network for Battered Women.
In March, a jury found Turner guilty on three chargers of sexual assault, altogether carrying with them a maximum sentence of 14 years. Prosecutors requested Turner serve six years. But last week, Persky sentenced the 20-year-old to just six months, saying any more time would have a "severe impact" on his wellbeing. 
Persky's light sentencing sparked outrage with petitions calling for Perksy's removal. 
Some speculate Persky's own background as an elite athlete at Stanford University gave him an inherent bias that led him to sympathize with Turner, while others point the blame at Turner's dad's letter calling for leniency for his son. 
Persky may be the sole person who delivered Turner's sentence, but the judge doesn't exist in a vacuum, and for that reason the dissenting public may find no satisfying answer for his ruling on Turner's case. Persky — like those who described Turner first and foremost as an "All-American swimmer," and like those who think prosecuting rape is a crime of "political correctness" — exists in a society colored by rape culture. 
Read more: One Tweet Destroys Brock Turner's Dad's Disgusting Defense of His Son
Correction: June 7, 2016