You Can Now Be Buried In a Vineyard, Which Makes Going 6 Feet Under Seem Less Bad?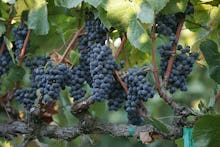 In vino veritas, and in vino you can now be buried. 
Ten years ago, the Holy Sepulchre Cemetery planted vines instead of grass on its property outside of San Francisco. The area is now a functional, and thriving, vineyard, the New York Times reported. 
Resting near some ripe grapes for eternity (ostensibly) doesn't come cheap, but the purchase is definitely a long-term investment. A burial plot in the vineyard will set you, or your loved ones, back $5,000 to $6,000. 
But don't worry, this isn't some two-buck chuck — the wine from the vineyards is award-winning. Anyone can purchase the vino, which is sold under the label Bishop's Vineyard.
After successfully producing a rosé in 2013, church officials realized they had quality grapes on their hands. Now the wines — including cabernet sauvignon and zinfandel —  are winning some serious awards. A Bishop's Vineyard Cab Sav earned silver at the Monterey International Wine Competition and silver at the San Francisco Chronicle Wine Competition. 
The Holy Sepulchre Cemetery isn't the only one of its kind: there are three California graveyards where the dead can rest in flourishing vineyards. 
Ashes to ashes, dust to ... wine? 
There's no denying that the idea of drinking wine made from grapes grown near dead people is a little spooky. But these wines don't contain any concrete remains of humans, so wine buyers can rest assured they aren't chugging parts of someone else's grandma. 
The vineyard-cemetery hybrid might not be a crazy idea.
In fact, it could be environmentally sound. Grapevines require less water than grass, which is a definite boon to water-strapped Californians. It also makes grounds maintenance less expensive. 
And as the Times noted, cemetery owners regularly struggle to keep up ground maintenance when Americans are more frequently opting for cremation over burials. In 2012, cremation rate was 43.5%, and it's projected to be almost 50% by 2017, the Huffington Post reported. 
Some in the Catholic Church hope attractive vines will sway Americans back to more traditional burials, or lessen the intimidation factor of death and cemeteries. 
The vines give life (if you will)  to the area. "The cemetery doesn't seem like such a sad and fearsome place when you go there and see the vines," Bishop Michael C. Barber of the Roman Catholic Diocese of Oakland told the Times. 
Resting forever under that blue sky next to flowering vines might be worth $6,000 after all. 
Cheers to the good life, and then some.