Hillary Clinton Just Made History — And It's Time to Recognize it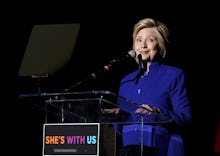 The Associated Press reported on Monday night that Hillary Clinton became the Democratic party's presumptive presidential nominee — the journalistic equivalent of opening the flood gates in the eye of the storm.
The former Secretary of State is now the first female candidate to cross the delegate threshold for nomination in a major American party. 
Make no mistake: Monday night's findings are truly, monumentally historical. And yet, some news outlets and social media users aren't reporting it as such. 
Though Glenn Greenwald's piece in The Intercept briefly concedes that "Clinton's nomination is an important and positive milestone," its thesis stops just short of outright accusing the Clinton campaign of colluding with the mainstream media effectively calling the race a day before several key primaries. 
But Clinton's critics on social media were far more aggressive than Greenwald. 
The fangs came out almost immediately on Reddit, with one user writing, "I've had enough of this shit. Voting Trump in the generals just you watch Democrats," in all caps, and another, "this makes me so fucking angry. Why is the media so threatened by this man?" referring to the Associated Press' reporting Clinton is the nominee. 
Her critics on Twitter were even more brutal in their takedown of Hillary.
All through the primary, pundits have argued that voter complacency — that is to say, the belief that Clinton supporters, convinced that their candidate will win the race with or without their individual support, will opt not to show up at the booths during their states' Primary — has hampered Hillary's chances at clear, consistent victories. It remains unclear what impact the AP's early reporting of Clinton's nomination will have on voter turnout to the six states voting on Tuesday. 
Meanwhile, Sanders is continuing to sharpen his attacks on Clinton, calling on his supporters to prove "pundits and the political press" wrong.
"I'm going to do everything I can to reach out to try to unify the Democratic party, and I expect Senator Sanders to do the same," Clinton recently said. On June 7, 2008, Clinton conceded her White House campaign to Barack Obama, a move she applauds as "the right thing to do."
Whether you're a Clinton supporter or not, a woman becoming the presumptive nominee for a major American party represents a watershed moment in American history — one that exists separate from Hillary's record as a Senator and Secretary of State, one that exists separate from her personality as it is perceived by her staunchest supporters and her fiercest critics and one that exists separate from her political platform. 
You can disagree with each and every single thing that Hillary Clinton has said and done and that still wouldn't change the fact that her presumptive victory is a major milestone for our nation — one that proves America is willing to vote a woman into the job if they think she's the best fit to take on the challenge.
On top of that, it's a moment that proves women can and should be vetted as heavily for any position in power as a man.
And that sentiment was felt on Monday night as well.
Hillary Clinton's gender isn't a qualification for the presidency; nor is it an armor that shields her from criticism or reproach. But it is a reason to celebrate.