This Dad's Scathing Letter to Ex-Stanford Swimmer Brock Turner's Father Is Going Viral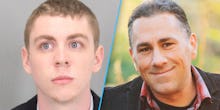 After ex-Stanford swimmer and convicted sex offender Brock Turner's father wrote a letter to Santa Clara County Judge Aaron Persky asking for leniency, many on the internet were outraged by his apparent inability to acknowledge his son's crime and the effect it had on the victim.
"Brock's life has been deeply altered forever by the events of Jan. 17 and 18," Dan Turner wrote. "He will never be his happy-go-lucky self with that easygoing personality and welcoming smile."
Given that Turner was given a sentence of six months in jail, it seems that the letter (and others like it) served its purpose. But some people on the internet have been responding with letters of their own, such as this one from dad blogger John Pavlovitz, which is currently going so viral that the website has crashed. 
"I need you to understand something, and I say this as a father who dearly loves my son as much as you must love yours," Pavlovitz wrote. "Brock is not the victim here. His victim is the victim. She is the wounded one. He is the damager."
He continued:
If his life has been "deeply altered" it is because he has horribly altered another human being; because he made a reprehensible choice to take advantage of someone for his own pleasure. This young woman will be dealing with this for far longer than the embarrassingly short six months your son is being penalized. She will endure the unthinkable trauma of his "20 minutes of action" for the duration of her lifetime, and the fact that you seem unaware of this fact is exactly why we have a problem.
Pavlovitz went on to say that he understands why Dan Turner might feel an impulse to humanize and defend his son, but that "to be honest I don't give a damn and if his victim was your daughter I'm quite sure you wouldn't either."
Throughout the letter, Pavlovitz stresses the importance of taking responsibility for one's actions and tries to shine a light on the victim's side of the story, which has also been going viral this week.
"It feels like you want more sympathy and goodwill toward your son than you want for the survivor of his crime," he wrote. "And that's simply not good enough for her or for those young men and women watching."
You can read the full blog post here.
Correction: June 7, 2016