5 Times Amber Heard Has Been Shamed for Speaking Out About Domestic Violence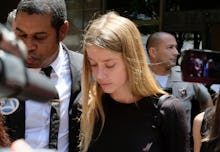 Amber Heard has evidence to support her assertion that her husband, Johnny Depp, physically abused her. 
She showed up in court with a black eye, the result of an argument that became heated when the 52-year-old actor, drunk, hurled her phone at her face and allegedly hit her, repeatedly. A series of texts suggesting a years-long pattern of abuse from an under-the-influence Depp then surfaced. Witnesses to the argument have weighed in. 
One is iO Tillett Wright, the woman with whom Heard was speaking when Depp snatched the phone from her hand and listened along as the fight unfolded. On Tuesday, iO fired off a tweetstorm addressing all the victim shaming that's rained down upon Heard since she spoke up about the abusive relationship.
"How much evidence does a woman need to present?!" iO tweeted. "She has photos, texts, witnesses, and filed a restraining order."
And yet, despite seemingly substantiated claims, Heard keeps getting dragged — and not just by Depp defenders on social media. The news media — or, more precisely, Hollywood tabloid TMZ — keeps throwing extraneous details into the mix. The goal, it seems, is to discredit Heard. But all that this off-task reporting does is shame the victim. 
Take, for example, that time Heard was rumored to have been spotted smiling after testifying against Depp in court.
TMZ jumped on photos of the actress "smiling and cackling" with a friend one day after "crying her eyes out after her ... hearing." Because victims are never allowed to experience happiness again?
And so began a string of articles in which people who should know alleged there was no evidence the dispute Heard described ever went down.
First it was the police, whose report TMZ shared in claiming that responding officers not only saw no evidence of physical abuse on Heard's face, but she'd made no such claim. Apparently the cops' recommendation that she call later if she changed her mind suggested nothing about the nature of domestic abuse to the gossip site. That she didn't file a police report, however, told TMZ that she might be aware of the illegality of lying about an assault claim.
Next, TMZ reported that the couple's security guards, who were stationed in the doorway during the iPhone argument, said that Depp wasn't within striking distance when they entered the room in the middle of the fray, apparently not accounting for either actor's ability to move. 
The tabloid also cited the concierge on duty in Heard's building, who told TMZ that she saw no signs of bruising on the actress' seemingly makeup-free face following the blow-up with Depp. Every time, the insinuation is that Heard is a liar, which is perhaps unsurprising from an outlet that has framed her as the bad guy from first news of the couples' divorce.  
Most recently, the gossip site alleged that Heard was hiding her own history of domestic abuse. 
On Tuesday, TMZ said that the actress "grabbed and struck" her ex-girlfriend Tasya van Ree on the arm during an argument in the Seattle-Tacoma International Airport in 2009. Heard was arrested, but the prosecutor "declined to move forward with the case." 
While some have claimed that the incident "muddies the waters" of Heard's claims against Depp, it's difficult to see how that could be. 
Heard's grabbing of her ex-girlfriend's arm doesn't change anything about the situation in which Depp reportedly hit her. It doesn't erase those text messages recalling his habit of getting drunk and hurting her. And it doesn't mean she deserves what she got from Depp, if indeed her allegations do turn out to be the truth.
And according to iO, every accusation Heard has made against her husband is valid — iO intends to say as much in court. "I've had enough," iO tweeted. "I saw the bruises. Many times. And the fat lip. And the cut head."
"This culture of victim blaming makes me sick," iO continued. "I'm a witness. I'm here. I'm standing up. I can't take any more of this witch hunt."
Read more: Here's What We're Missing When We Support Johnny Depp Without Listening to Amber Heard