Is Roger Goodell Dead? NFL's Twitter Account Was Hacked With Tweet Announcing Fake Death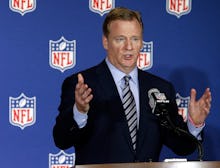 Someone broke into the official Twitter account of the National Football League on Tuesday, posting an (inaccurate) message saying NFL commissioner Roger Goodell is dead.
"We regret to inform our fans that our commissioner, Roger Goodell, has passed away," read the fake tweet, documented by ESPN's Darren Rovell. "He was 57. #RIP"
A followup tweet read, "Oi, I said Roger Goodell has died. Don't delete that tweet".
In this case, the fake news doesn't appear to have caught on, as the post went out without a news release and was quickly removed.
While the NFL has since regained control of the account, cyber security breaches have become an increasing problem in recent years, with a series of high-profile hacks, heists and break-ins stealing national headlines in 2015. Twitter in particular has proven vulnerable. Over the weekend, Twitter accounts belonging to Kylie Jenner, Keith Richards, Mark Zuckerberg and Jack Black were all hijacked, according to Fox 411.
In common parlance, such events are commonly referred to as hacks, though no actual programming expertise is necessary to steal login information from users. Large releases of stolen user information sometimes include hints as to the real login credentials of an actual account, enabling even casual web users to take a turn at the wheel.
Read more: The Panama Papers May Have Come From a Hack, Not a Leak