Kerry Washington Says She Got Fired From 2 TV Series Because She Wasn't "Hood" Enough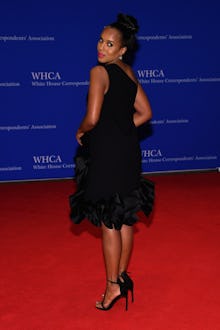 Kerry Washington is not here to play "hood," or "girlfriend," or "urban" — even if it gets her kicked off a show.
In an interview with Aziz Ansari for Variety's Actors on Actors series, Washington admitted that she was recast in two different pilots. The reason, according to Washington: She got notes to play up more stereotypical traits for her characters.
"Before Scandal, I was actually cast in two other pilots. Both went to series, but I was fired and recast," Washington said. "For both, it was because they wanted me to sound more 'girlfriend,' more like 'hood,' more 'urban.'"
It's unclear exactly what two pilots Washington was referring to, although she did play a character in Fox's original Wonderfalls pilot. The 2004 series was picked up for 13 episodes — but with Cold Case's Tracie Thoms in the role.
It's probably for the best Washington didn't get those pilots, though.
In 2011, Washington signed on as a lead in an untitled Shonda Rhimes pilot. Five years and 89 episodes later, the rest is history.
Read more: Kerry Washington Uses Her SXSW Session to Talk About Social Good on Social Media