Top Republicans: Donald Trump Might Be a Racist, But He Should Definitely Be President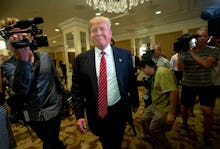 A parade of Republicans have come out over the past few days to scold Donald Trump for "racist" comments the billionaire businessman made about the federal judge presiding over two Trump University lawsuits.
Yet, almost none have rescinded their endorsements of the presumptive Republican nominee, or said he is unfit to be president, with most saying Trump would still be better than electing Hillary Clinton.
Read more: Paul Ryan Blasts Donald Trump's "Racist" Attacks on Judge — But Stands by Endorsement
The friendly fire against Trump is over his attacks on Judge Gonzalo Curiel — the judge presiding over the Trump University lawsuits — whom Trump said will be an unfair arbiter of the case because of his Latino descent.
Everyone from House Speaker Paul Ryan to Senate Majority Leader Mitch McConnell have scolded Trump for the comments. But only one detractor, Sen. Lindsey Graham of South Carolina, rescinded their endorsement.
"Claiming that a person can't do their job because of their race is sort of like the textbook definition of a racist comment," Ryan told reporters at a Tuesday morning news conference.
"But do I believe Hillary Clinton is the answer? No, I do not," Ryan added.
McConnell admonished Trump for the remarks on Tuesday, telling reporters Trump should "quit attacking people" and "get on message."
Former House Speaker Newt Gingrich, who's been an ardent Trump supporter, also condemned Trump's remarks about Curiel, calling them "inexcusable," but did not say he'll stop backing Trump's bid.
Sen. Tim Scott, a black Republican from South Carolina, told CNN that Trump's comments were "racially toxic," but that Trump "needs to get on to the general election, and we need to win."
And even more stunning was Sen. Jeff Sessions, an Alabama Republican and one of Trump's earliest backers, refused to back the candidate up.
Trump currently trails Clinton by two points in the RealClearPolitics polling average.