Yet Another Oil Spill Near Native American Land Is Failing to Grab National Attention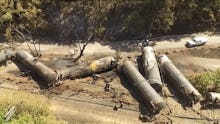 It's been five days since tanks from a 96-car train derailed, burst into flames and spilled crude oil into the Columbia River near Mosier, Oregon, about 70 miles east of Portland.
The Union Pacific train was transporting Bakken crude oil — one of the most combustible forms of oil — from Eastport, Idaho, to Tacoma, Washington, last week, when it passed through the Columbia River Gorge near the Oregon-Washington border.
Around noon local time on Friday, for still-unknown reasons, 16 of the cars suddenly derailed. Four caught fire and leaked oil into the river, though officials have still not determined the extent of the contamination — or whether it could harm local wildlife in the long term.
What's more, no one noticed the oil sheen spreading across the water's surface until first light on Saturday. Officials who rushed to contain the spill later told the Guardian they had detected no damage to wildlife. But the Yakama tribe — whose reservation lies north of Mosier, across the river in southern Washington — said the spill poses a direct threat to their livelihood.
"One of our fishers has a fishing site just downriver from this oil fire," JoDe Goudy, chairman of the Yakama Nation, explained in a statement, according to the Indian Country Today Media Network. "His livelihood and well-being, and the well-being of his family, could all be jeopardized by this single derailment."
In fact, the Yakama's concerns about such a spill had been substantiated by a government study less than two weeks before the accident. On May 27, the Oregon attorney general's office published a report saying an oil train or tanker spill in the Columbia River could take decades to repair, and cause up to $171 million in environmental damages, the Columbian reported.
Local Native Americans say they've been warning companies to stop transporting oil through the region for a long time.
"We have repeatedly warned of train derailments, corresponding oil spills and the contamination that could result when these trains are carrying crude oil," Chairman Goudy added, according to the Los Angeles Times. "These trains and their tendency to derail are grave threats to the Yakama People."
The Yakama's concerns about the dangers of oil transportation by rail in the area are increasingly being proven correct. According to NBC News, citing data from the Pipeline and Hazardous Materials Safety Administration, crude oil spills from trains have spiked dramatically in recent years, causing fires, explosions and pollution in states from Pennsylvania to Colorado to Canada.
In 2013, 1.4 million gallons of crude was spilled in the US as a result of train accidents alone — more than was spilled in the previous 40 years combined. In 2014, 141 separate crude oil train spills occurred. Between 1975 and 2012, there was an average of only 25 such spills per year.
Other residents in Mosier and the surrounding area have also expressed concerns over this mode of oil transportation, and whether the US rail system has properly addressed its accompanying safety concerns.
"There is no safe way for these fossil fuel trains to come through our town," Emily Reed, Mosier city council president told the Guardian. "I'd like to see them stopped until there are standards and we know it's safe."
This increase in accidents over time can be partly attributed to America's growing thirst and capacity for oil. According to the US Energy Information Administration, the US produced 8.2 million barrels per day in 2014 — a 1.2 million barrel-a-day increase over 2013, constituting the largest volume growth since 1900.
But as this thirst for oil has grown, so has the danger in moving it from place to place. Native American tribes — many of whom rely on the land the oil is being transported through — have long been among the loudest voices speaking out against crude oil trains and pipelines, which have proven highly volatile and prone to leakage, respectively.
Most recently, members of the Standing Rock Sioux tribe in North Dakota have been fighting to stop the Dakota Access pipeline from being built. If constructed, the pipeline would run 1,168 miles from northwest North Dakota into Illinois, and burrow under a section of the Missouri River — which the tribe uses for drinking water — located just a few hundred feet north of the Standing Rock reservation.
"We will stop it," LaDonna Brave Bull Allard, a tribal historian with the Standing Rock Sioux who provided family land for protesters in April, told the Associated Press. "We are not expendable."