Transgender Alaskan High School Runner Faces Criticism for Competing on Female Team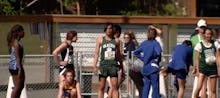 In May, high school senior Nattaphon Wangyot made Alaskan history as first transgender athlete to compete at a statewide high school championship. Wangyot, who attends Haines High School, had participated in Anchorage, Alaska's track meet with hundreds of other student runners.
But her success was also met with criticisms by some who argued that she has an unfair biological advantage over the other female runners. "Allowing students to play on teams of the opposite sex disproportionately impacts female students, who will lose spots on a track, soccer and volleyball teams to male students who identify as female," Jim Minnery, president of the organization Alaska Family Action, said at a press conference protesting Wangyot's participation, according to Alaska Dispatch News. 
Some students agree with the conservative group. "It's the DNA," student and winner of the Class 4A girls 3,200-meter race Peyton Young told Alaska Dispatch News. "Genetically a guy has more muscle mass than a girl, and if he's racing against a girl, he may have an advantage."
But Wangyot has said that the medication she takes actually suppresses her male hormones in favor of increasing female hormones. 
The Alaska School Activities Association lets schools decide on an individual basis on how someone can participate in a sport based on gender identity. But if no policy is in place, then the student has to compete based on their birth gender. So with Wangyot's participation, Haines School District swiftly made gender identity an addition to its non-discrimination policy, so that any student can compete based on whichever gender they identify with, not born with. 
Currently, 30 states have laws that allows student athletes to compete with their chosen identity. 
For states, Wangyot won third place in the small schools' 200-meter sprint and fifth in the 100-meter race. "Some hateful people make me stronger and stronger," Wangyot said, according to Alaska Public Media. "So I want to say 'thank you' for everybody."
Read more: Texan Eighth Grader Was Sent Home for Wearing Pro-LGBT Shirt