Dolly Parton Has Zero Time for Your Bathroom Laws, North Carolina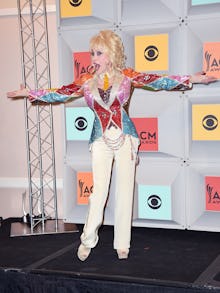 Dolly Parton is a busy lady. If she's gotta go, she's gonna go, and North Carolina's bathroom laws won't stop her — and if the country legend has it her way, they won't stop anyone.
As the Huffington Post reported, Parton breezed right through a question  during an interview with CNN Money about the state's House Bill 2, which bars transgender individuals from using the bathroom with which they identify. As she explained, Parton doesn't have time for urination obstacles.
"I think everybody should be treated with respect," Parton said. "I don't judge people and I try not to get too caught up in the controversy of things. I hope that everybody gets a chance to be who and what they are."
"I just know if I have to pee, I'm going to pee — I don't care where it's going to be."
Parton's Pure and Simple tour launched Friday from Greensboro, North Carolina. While performers including Bruce Springsteen, Ringo Starr, Pearl Jam and Demi Lovato have canceled gigs in the Tar Heel State, in a sign of protest for the law signed by Gov. Pat McCrory in March. Parton's decision to proceed as scheduled had to do with her reticence to get involved with the controversial, and her belief that she could "serve better from the stage."
Whether from a stage or CNN Money's Facebook account, Parton's no-nonsense approach to mother nature's call is commendable. Be who you are, pee when you need to pee in whatever commode is available. It really shouldn't be more complicated than that.
Read more: Cast of 'Kinky Boots' Protests North Carolina "Bathroom Bill" With New Musical Number