Samsung Galaxy Note 6: These Are the Most Futuristic Rumored Features You Need Now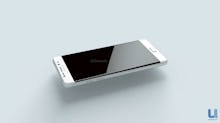 Samsung's Galaxy Note 6 is the competitor to consider for anyone not fiercely loyal to the iFamily.
The year 2016 has brought us a new batch of new phones and phablets to drool over as the cycle of obsolescence prevails. The Samsung Galaxy Note 6 (or maybe Galaxy Note 7, TBD!) is rumored to launch between July and October of this year — and it's going to be significantly better than its predecessor, according to the rumor mill. It almost assuages the guilt of throwing your still shiny gadget into a toxic landfill. 
What you can expect:
1. Iris Scanner 
According to SamMobile, the Samsung Galaxy Note 6 will be able to scan your eyeball for an added layer of biometric security. Rumors indicate that sensors in the phablet's top bezel will let users unlock the phone by just staring into its glimmering screen. Rad. 
2. More Screen
Rumors also point to a curved Edge display, banishing the side bezels for even more screen real estate. 
3. Water Resistance 
The Samsung Galaxy Note 6 may also be water-resistant. Note, this is not the same as waterproof — it means it will be certified with an IP68 rating, USwitch reported. That means it can survive "rain, splashing and accidental immersion," according to Trusted Reviews. So yes, you can check your Galaxy Note 7ix sans umbrella while it's drizzling — but no, don't take it for a swim. 
4. Battery Power 
Plus, there will be the obvious upgrades — Samsung Galaxy Note leaks point to a bigger and more powerful battery, improved camera features and the newer USB-C connector.