Donald Trump Says He's No Racist Because He Has Lots of Hispanic Friends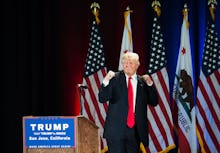 Donald Trump wants to know how he can possibly be a racist if he's got Mexican friends.
The Republican's presidential campaign blasted out a long and indignant self-defense Tuesday afternoon while under continued fire for his comments about the Hispanic judge overseeing two Trump University-related trials.
Read more: Top Republicans: Donald Trump Might Be a Racist, But He Should Definitely Be President
"It is unfortunate that my comments have been misconstrued as a categorical attack against people of Mexican heritage. I am friends with and employ thousands of people of Mexican and Hispanic descent," the presumptive nominee said.
"The American justice system relies on fair and impartial judges. All judges should be held to that standard," he continued. "I do not feel that one's heritage makes them incapable of being impartial, but, based on the rulings that I have received in the Trump University civil case, I feel justified in questioning whether I am receiving a fair trial."
Trump has spent days lobbing escalating attacks at Judge Gonzalo Curiel, the U.S.-born jurist presiding over the lawsuits related to the Manhattan magnate's "university" business courses.
Marquee Republicans have condemned Trump's insistence that Curiel's Mexican heritage might harm his performance on the bench — up to and including House Speaker Paul Ryan, who said he disavowed Trump's commentary, but not the campaign itself.
His campaign dropped the press statement amid news that Sen. Mark Kirk of Illinois, who faces a tough re-election challenge, had pulled his support from Trump following a cascade of negative reactions to the continuing rhetoric.
"I have spent my life building bridges and tearing down barriers — not building walls," Kirk said in a statement on the race. "That's why I find Donald Trump's belief that an American-born judge of Mexican descent is incapable of fairly presiding over his case is not only dead wrong, it is un-American."
His latest statement railed against the media for having "reported one inaccuracy after another concerning the ongoing litigation involving Trump University."
Students of the for-profit Trump enterprise have said they were duped into paying big money for real estate courses that yielded them little or nothing.
Trump reiterated that students gave the courses excellent reviews and said he fears he can't get a fair trial thanks to his unique status as the presumptive GOP nominee.
"Due to what I believe are unfair and mistaken rulings in this case and the Judge's reported associations with certain professional organizations, questions were raised regarding the Obama appointed Judge's impartiality," Trump said. "It is a fair question. I hope it is not the case."
He concluded, predictably, with a bang.
"While this lawsuit should have been dismissed, it is now scheduled for trial in November. I do not intend to comment on this matter any further. With all of the thousands of people who have given the courses such high marks and accolades, we will win this case!"
Trump was scheduled to address the press at his Westchester County, New York, golf course Tuesday night, as Trump's Democratic foe Hillary Clinton is likely to proclaim victory in her party's primaries following the final major nominating contests.