Meet the 2 Men Who Caught Brock Turner in the Act and Held Him for Police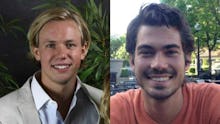 Carl-Fredrik Arndt and Peter Jonsson, the two Swedish Ph.D students who rescued a woman who was being sexually assaulted by Brock Turner, have come forward to describe the incident. 
Arndt and Jonsson each testified in Turner's trial after seeing Turner and the victim partially hidden behind a dumpster on campus. They subsequently pounced on Turner, ensuring his arrest when authorities arrived.
"We saw that she was not moving, while he was moving a lot," Arndt told Swedish news site Expressen, according to a translation by BuzzFeed News. "So we stopped and thought, 'This is very strange.'"
"When he got up, we saw that she still wasn't moving at all, so we walked up and asked something like, 'What are you doing?'" he continued.
Turner attempted to flee — and Jonsson tackled him, later joined by Arndt as a third, separate man contacted the authorities.
"She lay perfectly still," Arndt told Expressen.
Arndt also shared his thoughts with the outlet on the victim's moving statement during the trial on the impact the event had on her life, and how she felt as though Turner hadn't really shown remorse for the crime and instead blamed other factors like "college campus drinking culture and the sexual promiscuity that goes along with that."
"Most importantly, thank you to the two men who saved me, who I have yet to meet," the victim wrote in the statement, which was widely shared on social media. "I sleep with two bicycles that I drew taped above my bed to remind myself there are heroes in this story. That we are looking out for one another."
"To me it is unique in its form," Jonsson wrote on Facebook, BuzzFeed reported, "and comes as close as you can possibly get to putting words on an experience that words cannot describe."
June 8, 2016, 7:09 p.m. Eastern: This story has been updated.