Bumble Had the Perfect Response to This Finance Douche's Sexist Rampage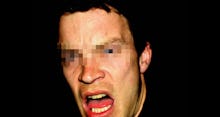 If you're a woman on a dating app, you've probably crossed paths with a classic douchebag like Connor — the "well, actually"s of the online dating world.
Dating app Bumble won't stand for your male chauvinist rant, Connor. 
The dating app — which is known for its female-first approach — just called out a man for his sexist remarks to another female user in a blog post called "An Open Letter to Connor."
When Bumble user Ashley asked Connor, "What do you do?" Connor told Ashley he was tired of girls like her — "entitled, gold-digging whores." He told her to take her "$40,000/ account manager job & ASU degree elsewhere" because his "$300,000 job and Notre Dame finance degree" has no use for Ashley. Connor also says he doesn't prescribe to "this neo-liberal, Beyoncé, feminist cancer which plagues society." 
And no, Ashley, this isn't a tantrum, Connor says. 
Bumble disagrees. Here's the beginning of the letter:
"We hope that the hate and resentment welling up inside of you will subside and you'll be able to engage in everyday conversations with some without being cowardice to their power," the Bumble Hive wrote in the open letter. "But until that day comes, Connor, consider yourself blocked from Bumble."
Bumble's Terms and Conditions explicitly states that it has a zero-tolerance policy for certain content, including language that is abusive, insulting or threatening, racist, sexist, hateful or bigoted as well as anything that "could be deemed offensive or is likely to harass, upset, embarrass, alarm or annoy any other person." 
#LaterConnor.
You can see the screengrabs from the conversation in full below.