2016 Primary Results: Who's Winning the New Jersey, California and Other June 7 Primaries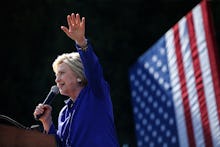 The end is nigh.
Four months after the Iowa caucuses kicked off the presidential nominating contests, the primary season is set to reach its denouement on Tuesday night, as presumptive Democratic nominee Hillary Clinton and Bernie Sanders face off in New Jersey, California, North Dakota, South Dakota, Montana and New Mexico.
The primaries come one day after Clinton clinched the nomination, securing the 2,383 delegate majority she'll need to face off against presumptive Republican nominee Donald Trump in the fall.
Read more:
But with Sanders vowing a full-court press to woo superdelegates to his side before the Democratic convention — and within striking distance of Clinton in California — it's not clear that the Vermont senator will step aside after Tuesday's contests.
Polls will close in New Jersey at 8:00 p.m. Eastern, with California set to close three hours later. Follow along as our political team keeps track of all the night's unfolding developments.
All times are Eastern.
2:14 a.m.: Sanders wins Montana.
The AP called the state for Sanders at 2:10 a.m.
Sanders has now won Montana and North Dakota, while Clinton has taken New Mexico and New Jersey. She enjoys a slim lead in South Dakota and leads Sanders by a large margin in California, the linchpin of his hopes for convincing superdelegates to back his candidacy. — Luke Brinker
2:00 a.m.: Bernie says it'll be a contested convention.
After beginning his speech in Santa Monica, California, with a focus on ripping Trump and the issues that have motivated his campaign, Sanders' remarks took a defiant turn when he signaled he has no plans to exit the race.
"We take our fight for social, economic, racial and environmental justice to Philadelphia," the site of the July convention, Sanders proclaimed.
Ending his speech with a clenched fist, the self-styled revolutionary declared, "The struggle continues!"
Clinton now has 2,488 delegates to Sanders' 1,653, per RealClearPolitics. It takes 2,383 delegates to win the nomination. — Luke Brinker
12:04 a.m.: Obama congratulates Clinton on her victory, and plans to meet Sanders.
White House Press Secretary Josh Earnest said in a statement late Tuesday that President Barack Obama called both Clinton and Sanders, and said that the president would meet with Sanders on Thursday as he looks to unite the Democratic Party.
"The President congratulated Secretary Clinton for securing the delegates necessary to clinch the Democratic Nomination for President. Her historic campaign inspired millions and is an extension of her lifelong fight for middle-class families and children," the statement read.
"The President thanked Senator Sanders for energizing millions of Americans with his commitment to issues like fighting economic inequality and special interests' influence on our politics," Earnest added.
The purpose of Thursday's Obama-Sanders meeting, per the statement, was to focus "on how to build on the extraordinary work he has done to engage millions of Democratic voters, and to build on that enthusiasm in the weeks and months ahead."
The statement made no reference to when Obama would formally endorse Clinton, whom Obama defeated in the 2008 Democratic primaries and later tapped to serve as his secretary of state. — Luke Brinker
11:51 p.m.: Clinton takes South Dakota.
Notching her third win of the night, Clinton has narrowly edged Sanders in South Dakota, after the senator won its northern neighbor on Tuesday. The AP made the call at 11:48 p.m. — Luke Brinker
10:58 p.m.: Clinton wins New Mexico.
The AP called the state for Clinton at 10:54 p.m., after she finished her victory speech in New York. — Luke Brinker
10:43 p.m.: The only GIF you need to sum up Clinton's speech.
10:36 p.m.: Clinton keeps up her barrage against Trump.
"Donald Trump is temperamentally unfit to be president and commander in chief," Clinton continued, continuing a line of criticism she debuted last week. "When he says, 'Let's make America great again,' that is code for, 'let's take America backwards."
"When Donald Trump says a distinguished judge, born in Indiana, can't do his job because of his Mexican heritage," Clinton said, citing the uproar over Trump's comments about the judge overseeing the lawsuit over Trump University, "or he mocks a reporter with disabilities, or calls women pigs — it goes against everything we stand for." — Stefan Becket
10:30 p.m.: Clinton congratulates Sanders on his campaign and reaches out to his young supporters.
In a nod toward what she hopes will be a coalescing behind her candidacy, Clinton praised Sanders for his campaign and said the prolonged Democratic contest "has been very good for the Democratic Party and for America."
"Whether you stand with Sen. Sanders or one of the Republicans, we all need to keep working to a better, fairer, stronger America," she said. — Stefan Becket
10:26 p.m.: "This is the first time in history that a woman will be a major party's nominee."
"We are all standing under a glass ceiling tonight," Clinton said. — Stefan Becket
10:23 p.m.: Clinton takes the stage in Brooklyn.
Following a campaign video placing Clinton's candidacy in the tradition of women's rights movements throughout American history, Clinton took the stage at the Brooklyn Navy Yard to Katy Perry's "Brave." — Stefan Becket
10:05 p.m.: Mass layoffs ahead for Sanders campaign.
The New York Times, citing two sources close to the Sanders campaign, reports that the senator will let go of "at least half" of his campaign staff on Wednesday, with the cuts targeting both advance and field staffers.
Though Sanders is signaling that he'll remain in the race at least through the Washington, D.C. nominating contest on June 14, the reported cuts are signs of a dramatically scaled-back operation following Tuesday's contests. — Luke Brinker
9:53 p.m.: Check out Clinton's new Twitter avatar.
Here it is.
She's slated to proclaim victory at any moment now. — Luke Brinker
9:45 p.m.: Sanders wins North Dakota.
In his first victory of the night, the senator has won the North Dakota caucuses. The AP called the race at 9:42 p.m. – Luke Brinker
9:15 p.m.: Trump appeals to Sanders supporters — and vows to "fight."
Speaking to supporters in Briarcliff Manor, New York, Trump promised to be "America's champion" and reached out to supporters of Sanders, lauding the senator's shared opposition to free trade agreements and railing against what he called the "rigged" primary system.
In the speech, which Trump uncharacteristically read from a teleprompter, he also addressed concerns about his often-volatile temperament, saying his preference was always to be a "peacemaker."
But, the real estate tycoon added, "If I'm forced to fight for something I really care about, I will never, ever back down, and our country will never, ever back down."
Keeping that promise, Trump railed against Clinton and her husband, former President Bill Clinton.
"We can't solve our problems by relying on the politicians who created our problems," he said, saying the Clintons "have turned the politics of persona enrichment into an art form for themselves."
Trump added that he would give a speech "probably [on] Monday" on the controversies surrounding the Clintons, including Hillary's use of a private email server as secretary of state and alleged influence peddling by their charitable Clinton Foundation.— Luke Brinker
9:09 p.m.: Clinton takes New Jersey.
The AP made the call at 9:04 p.m., about an hour after polls closed. — Luke Brinker
8:41 p.m.: Sanders plans to campaign in D.C.
MSNBC reports that after a brief return to his home in Burlington, Vermont, Sanders will return to Washington, D.C., which holds the final nominating contest on June 14. — Luke Brinker
8:27 p.m.: Tomorrow's New York Daily News cover is ... brutal.
Wednesday marks the unofficial kickoff of the general election campaign, and the New York Daily News is giving Trump and the GOP quite the cover to wake up to. The front page comes in the midst of a firestorm over Trump's criticism of the Latino judge overseeing the lawsuit against Trump University, his defunct for-profit education venture.
Meanwhile, signaling that the GOP establishment is increasingly furious over Trump's attacks on Judge Gonzalo Curiel's background, Senate Majority Leader Mitch McConnell said at a Washington event Tuesday evening that it's time for Trump to get "serious" — the implication being that the party's standard-bearer has not run a serious campaign to this point. — Luke Brinker
8:00 p.m.: Polls have closed in New Jersey.
The Garden State's polling stations have closed, but because the state did not conduct exit polling, there's not sufficient data to call the race yet. Polls show Clinton with a healthy lead over Sanders in the state. — Luke Brinker
7:25 p.m.: Follow our reporters' live updates from Clinton and Trump's events.
Mic's Emily Cahn (@CahnEmily) and Celeste Katz (@CelesteKatzNYC) are on the scene at Clinton's event in Brooklyn and Trump's scheduled appearance in Westchester, County, New York, respectively. Give 'em the old follow.
They'll also be broadcasting live from the events on Facebook — like our Policy Mic page and watch there. — Luke Brinker
7:15 p.m.: Sanders campaign promises to press on.
While Sanders has said he'll "assess" his future after California's vote, his campaign is maintaining for now that he'll remain in the race after tonight, with manager Jeff Weaver telling MSNBC that Sanders will ramp up his superdelegate outreach in the days ahead.
"We've been using a surrogate operation up til now in terms of reaching out to superdelegates," Weaver said, per the Hill. "Once we get past this part of the process where people are done voting in California and other states, then we'll intensify the outreach to the superdelegates." — Luke Brinker
7:03 p.m.: Clinton will embrace history-making role.
Here's the video that will introduce Clinton at her remarks in Brooklyn, New York. Paying homage to the women's suffrage fight and the ongoing battles over women's rights, the video is as clear a demonstration as any that she will heavily emphasize her historic role as the first woman ever to lead a major party into a general election. — Luke Brinker