Donald Trump Promises to "Take Care of Our African-Americans" as President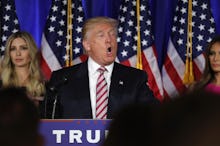 Briarcliff Manor, N.Y. — Even when delivering a prepared speech off a teleprompter, Donald Trump manages to blow up the web.
The presumptive GOP nominee set off the Twitterverse Tuesday night when, after a day of defending himself against accusations of racism, he vowed as president to "take care of our African-Americans that have been mistreated for so long."
Read more: Donald Trump Says He's No Racist Because He Has Lots of Hispanic Friends
Trump's eyebrow-raising remark came during a speech clearly intended to position him as a serious candidate for the Oval Office as the contest shifts from the primary stage to the expected general election contest against Democrat Hillary Clinton.
It also, as viewers quickly noted, came shortly after Trump gave a tin-eared shoutout to a black man who attended one of his California rallies — referring to the spectator as "my African American," although he turned out not to be a supporter.
The internet had plenty to say about that part of the Republican's sweeping speech at Trump National Golf Club Westchester, which also included a teaser for an upcoming speech attacking the Clintons:
Not everyone, of course, was horrified.
"Are you kidding me? I don't even want to look at my timeline," said Omarosa Manigault, a former "Apprentice" star, when told in an interview that Trump's remark was heating up Twitter.
"I realize that no matter what he says, there is a huge group of people who will never accept Donald Trump," she said.
"Let's not be ridiculous with our sensitivities. I'm the African-American in the room, sitting here on the front row," Manigault continued. "Donald's sending high-fives and acknowledging this to me. Not 'our.' There's no ownership there. But he's right: African-American unemployment has gone up under this administration. Poverty levels of our inner city has gone up under this administration."
"African Americans are suffering," she said. "You can't pay bills with hope. You can't fill gas tanks with hope. You can't fill prescriptions with hope. We need somebody who's going to bring real change and not just promise hope."
"We need somebody who is not afraid to speak candidly about the fact that our inner cities are breaking down under this administration and there has to be something that can be done."