Hillary Clinton Proclaims Historic Victory: "We All Owe So Much to Those Who Came Before"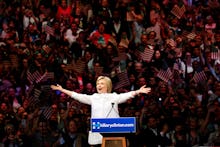 Hillary Clinton — whose late mother, Dorothy Rodham, was born the same day Congress approved women's suffrage — basked in the glow of her triumph as the first woman ever to be nominated for president by a major political party on Tuesday, a victory centuries in the making.
"We are all standing under a glass ceiling right now. But don't worry. We're not smashing this one. Thanks to you, we've reached a milestone," Clinton quipped, speaking at the Brooklyn Navy Yard in New York City. "For the first time in our nation's history, a woman will be a major party's nominee."
The former secretary of state's victory proclamation came eight years to the day after she conceded defeat to then-Sen. Barack Obama in the 2008 Democratic primary, and one day after the Associated Press projected that she had secured the 2,383 delegates required to defeat challenger Bernie Sanders for the nomination.
Read more: Hillary Clinton Has Finally Shattered One of America's Highest Glass Ceilings
Clinton embraced the symbolic and historic significance of her victory on Tuesday.
"Tonight's victory is not about one person. It belongs to generations of women and men who struggled and sacrificed to make this moment possible," she said, hearkening back to the suffrage movement.
"We all owe so much to those who came before, and tonight belongs to all of you," she added, speaking after winning the New Jersey primary and before polls closed in California, where polls show a tight contest between Clinton and Sanders.
As Clinton spoke, women in the crowd could be seen wiping tears. After the event, many said Clinton's re-telling of her mother's story, as a woman born before women could vote and who would have been proud to see her daughter claim the nomination, was the most powerful moment of her speech.
"It was very emotional. I think I'm still processing it," said Sofia Quintanar, a 26-year-old Clinton volunteer who waited a few hours to get into the event. "I've been a Hillary supporter since '08, so it was very emotional."
"Why watch history on TV when you can witness it?" said supporter Alex Berardino.
A fierce battle ahead: In an ironic twist, the would-be first woman president is slated to face Donald Trump, who has encountered charges of misogyny and insensitive behavior toward women, in the general election.
Trump has signaled a combative approach toward Clinton, and has blasted her for playing what he calls "the woman's card," proclaiming in April, "Frankly, if Hillary Clinton were a man, I don't think she'd get 5 percent of the vote."
After Clinton clinched the nomination on Monday, Trump said he was the one who "really broke the glass ceiling" by hiring women business executives to help run his real estate empire.
Speaking in suburban New York on Tuesday, Trump promised to deliver a speech in the coming days attacking Clinton on matters including her use of a private email server as secretary of state and alleged influence peddling through her family's private charitable foundation.
"We believe that we are stronger together and the stakes in this election are high and the choice is clear," Clinton declared on Tuesday. "Donald Trump is temperamentally unfit to be president and commander in chief," she added.
Clinton also took aim at Trump's "Make America Great Again" campaign slogan, telling supporters, "That is code for, 'Let's take America backwards.'"
"To be great, we can't be small," Clinton said, stressing cultural pluralism and diversity.
Mission unification: While Clinton hopes to finish off Trump with unsparing attacks over his often-incendiary rhetoric on immigrants, women, Muslims and foreign policy, the task before her now is to unite a Democratic Party deeply divided by the pitched primary battle between Clinton and Sanders, the progressive populist from Vermont.
Even after Clinton built a virtually insurmountable delegate lead, Sanders persisted in slamming Clinton's Wall Street ties, her foreign policy hawkishness and her family's Clinton Foundation.
"I want to congratulate Sen. Sanders for the extraordinary campaign he has run," Clinton said, hailing his role in fostering a "vigorous debate" on inequality and driving turnout among young voters. "This has been a hard fought, deeply felt campaign. But whether you supported me or Sen. Sanders or one of the Republicans, we all need to keep working toward a better, fairer, stronger America."
Alluding to her own loss eight years ago and her subsequent support for Obama, Clinton said, "As we look ahead to the battle that awaits, let's look at what unites us," citing Wall Street regulation, campaign finance reform and economic equity.
Sanders has vowed to continue his campaign through the Democratic National Convention in Philadelphia next month.
Though Sanders has vowed to stop Trump's election to the presidency, his candidacy has spawned a "Bernie or Bust" movement of impassioned supporters who vow never to support Clinton, whom they see as the representative of a calcified establishment.
To be sure, Clinton's policy views and her professional background place her squarely in the establishment Democratic mainstream. But on Tuesday, Clinton was keen to emphasize another facet of her public image: Barrier-breaker.
Emily Cahn contributed reporting.