#ThankYouBernie Reveals Bernie Sanders Has Already Had a Profound Impact on Our Nation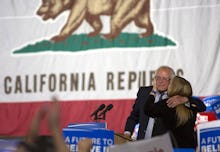 While Sen. Bernie Sanders has insisted that he will not drop out of the presidential race, despite Hillary Clinton on Tuesday night clinching the majority of delegates, it certainly feels like the last hoorah for the Democratic presidential candidate. The New York Times reported Sanders will lay off at least half of his campaign staff, and his aides told Politico just as much about the state of the campaign from the inside — it's not looking good. 
However, if and when Sanders formally chooses to drop out of the race, the message and policies he pursued will still resonate with his supporters. In that light, supporters tweet their thanks to Sanders, using the hashtag #ThankYouBernie to highlight the impact he's had on the election, and more broadly, our nation. 
Even if Sanders opts to drop out, the supporters will continue to fight on. Or, as Sanders put it Wednesday morning, "The struggle continues." 
Read more: Bernie Sanders Vows to Fight on as Hillary Clinton Claims Democratic Nomination